Full Time: Netherlands 0-1 Spain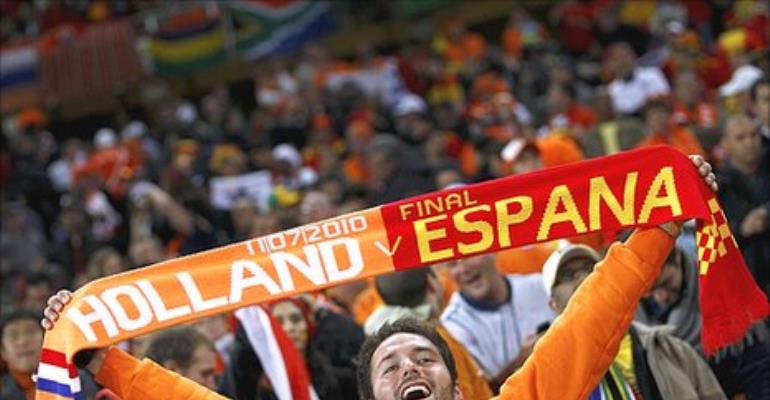 Spain are World Champions.
120' The final whistle goes for the end of the final.
116' Iniesta breaches an offside position and blasts the ball into the net for the much needed opener. GOAL!!! GOAL!!!
115' Sneidjer's free kick takes a ricochet for a corner, but referee waves goal kick
113' Robben should have been out but Webb employs law 18 common sense and that is why Robben is still on the pitch after he needlessly kicked the ball into the net after Webb had blown for offside. He is already on yellow
111' Van Der Wiel yellow carded for a challenge on Iniesta.
110' Xavi misses from that range.
109' Heitinger red carded for a second yellow. Free-kick for the Spanish at an advantageous area.
Players get back for the final 15 minutes
First half of extra time is over
105' Van Brochorst out Brafheeid in for the Netherlands
102' Fabregas takes on four Netherlands defence men weaves his way through and shoots wide. Del-Bosque applauds the effort of the Arsenal captain.
100' Jesus Navas' shot from close range takes a ricochet for a corner.
98' Iniesta has one touch too many in the goal area of the Netherlands; had Villa on his left to pass but wants to beat Van Brochorst but the Netherlands defender scores full marks. Yet anothe opportunity missed.
96' In the opposite post, Van Brochorst also wastes a free header opportunity for the Netherlands
95' Fabregas breaches the Netherlands defence; just has Stekelenburg in post to beat but he fluffs the opportunity. He should have buried that and he knows it
92' Xavi brought down in the 18 yard box after a late challenge by Heitinger. Referee waves play-on. Vincente Del Bosque and the Spanish bench clamour for penalty but Webb points to the corner. Taken and wasted.
90' Spain begin extra time.
Regulation time over. Game heads for extra time
90+2 Sneijder tries an audacious shot from 40 yards but goes far wide.
89' V Persie caught offside.
86' Alonso off; on is Cesc Fabregas for Spain
82' Arjen Roben again fluffs another golden opportunity after he fails to connect first time, allowing an oncoming Casillas to grab the ball off his cultured left foot.
80' Heitinger dispossess Iniesta of the ball in the vital area. Iniesta tumbles and looks for a favour but Webb waves play-on.
78' Webb a bit benign on Iniesta after an off the ball challenge on Sniejder.
76' Ramos has a free header from a corner but misses; should have been celebrating rather than whining.
75' Deep cross from Ramos; Villa tries the volley but goes miles away.
73' Freekick just in front of the Netherlands 18 yard box. Heitinger brings down Inniesta and Webb awards a free-kick. Taken and wasted by Xavi.
69' David Villa fluffs a golden opportunity at close range. Great cross from Ramos, Heitinga clears but only to a lurking Villa who from six yards plays the ball back into Heitinga instead of the yawning net for another corner. Taken and wasted.
66' Capde Villa yellow carded for rough challenge on Persie. Resulting free kick wasted.
60' Arjen Robben with just Casillas to beat shoots into the path of the Real Madrid goal keeper. That should have been the opener but it goes for corner. Great pass by Sneijder but Robben's delivery, woeful.
59' Jesus Navas comes in for Spain's Pedro
55' Heitinga yellow carded for a rough challenge on D Villa.
53' Van Bronchorst yellow carded for obstructing Ramos; Free kick at a threatening position. Xavi effects the freekick and goes just wide
51' Robben lifts up his game on the right; outwits his marker, cuts infield and delivers a thunderbolt but Casillas is up to the challenge.
49' Van Der Wiel makes a rampaging run on the right but his cross goes across the face of the goal with no connection from a Netherlands player.
47' Spain win a corner. Well taken; Puyol soars above Robben but his header too feeble to Stekelenburg
46' Netherlands win possession. Robben dummies well and finds Van Persie with a defence splitting pass; but too heavy for Persie to control; strolls past the goalline for goal kick.
45' Spain kick-off second half
Players of both teams file back onto the pitch after recess.
45+2 Howard Webb blows the whistle for the end of the first half.
45' Casillas pulls off a fine save from a Robben close range shot. Corner it goes for the Netherlands. Taken and wasted.
42 Sneijder sticks a foot up on Pedro but referee appears a bit benign as Sneijder goes free without a card.
37' Pedro takes on four Netherlands defence men and shoots wide from 30 yards. His shot whisks just wide.
36' Robben wins a corner for Netherlands; taken short and precise but Mathijsen miscues in the 18 yard box. That should easily have been the opener for the orange side.
33' Robben Van Persie still in the spirit of fair play gives the ball to Casillas.
33' Casillas mistimes a fairplay pass by the Netherlands player as the long ball brushes off his gloves for a corner.
32' Brave save by Casillas as he towers to grab a long cross from Bronchorst.
27' De Jong in a 'karate fashion' sticks his leg on the chest of Alonso and earns a yellow for his troubles. I think he deserves a red there.
25' Spain knocks the ball around with ease and panache as the Netherlands struggle to win and maintain possession.
22' Ramos is booked.
21' Third yellow. Van Bommel needlessly clutters in on Inniesta but Referee Howard Webb would have none of that. He flashes a yellow
20' Robben wins a corner after he attempted to outwit two Spaniards. Kick taken but headed to safety by Spain.
19' V Persie makes a run on the left but Pique clears his lines so well.
17' Kick taken but grabbed by Casillas
16' Puyol also earns another yellow for his un-timed challenge on Robben. Free-kick awarded to Netherlands at an advantageous point.
14' Cluttering challenge on Capdevilla earns Robben a yellow card
10' Teasing run by Ramos on the right beats his marker with a step over and just in the 18 yard box his shot well intercepted by Heitinga.
7' A howler by Pique in defence nearly proves costly, but Kuyt's shot too feeble to beat Casillas
7' Robben makes a run on the right but well checked by Puyol.
5' Kick taken immaculately headed superbly by Sergio Ramos but an equally stupendous save by Stekelenburg denies Spain an early goal.
3' Great piece of play by Ramos; brought down by Bronchorst and wins a free kick.
2' Spain makes an incursion with a Sergio Ramos cross on the right but headed out.
1' Netherlands bring the game underway.