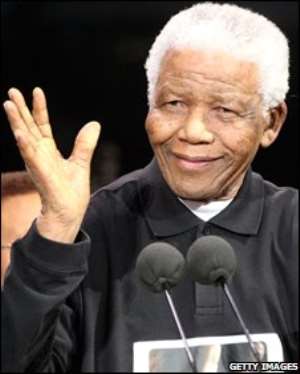 Nelson Mandela

Nelson Mandela has indicated he wants to go to the World Cup closing ceremony to greet fans, his grandson says.
Mandla Mandela told Reuters that the elderly former South African president was "trying to get some energy" to go to the stadium before going home to watch the game on TV.
Earlier, Mandla Mandela said his grandfather had been put under "extreme pressure" by Fifa to attend.
He said the engagement would be "strenuous" for the 91-year-old.
"He's going to rest and try and get some energy for tonight," Mandla Mandela told Reuters.
"He wishes to go to the stadium but we know with his age he can change his mind later on but he has expressed that he is coming to the stadium to come and greet the fans and go back home."
Family tragedy
Nelson Mandela cancelled plans to attend the opening ceremony after his great-granddaughter died in a car crash the night before the tournament.
Fifa head Sepp Blatter has said it will be "wonderful" if Mr Mandela attends.
Speaking to the BBC earlier, Mandla Mandela said: "We've come under extreme pressure from Fifa (the governing body of world football) requiring and wishing that my grandfather be at the final.
"But I think that decision will solemnly lie with him, as how he wakes up today, how he feels, and what his medical team says.
"My grandfather is 92 years old next week, this is an evening game; he's expected to hand over the trophy after the game which could be anything from 2230 to 2300 and it will be quite strenuous on his part."
The final takes place at Soccer City in Johannesburg on Sunday evening between the Netherlands and Spain.
Despite the varied quality of football, the tournament has been seen as a huge public relations success for South Africa.
Nelson Mandela's attendance would be seen as the perfect end to a competition that has boosted not only his country but all of Africa.
However, he remains in frail health and is still in mourning for great-granddaughter Zenani Mandela, 13, who was killed in a car crash after leaving a World Cup concert in Soweto on the eve of the tournament.
Mandla Mandela said: "I think people ought to just understand the family's traditions and customs and understand we've had a loss in the family and we are in mourning and that for me would be enough reason to leave the family to be for now."
On Thursday, Mr Blatter said: "We cannot foresee exactly what will happen, but if [Nelson Mandela] can come to the stadium it will be good.
"He has had this trophy in his hand when he was in Zurich in 2004, and it will be a wonderful moment for him, for football, for Africa - if this can be a possibility."