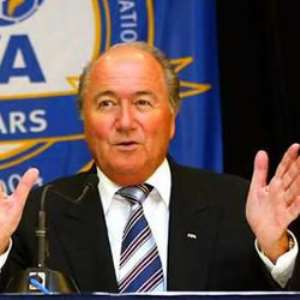 Sepp Blatter

As the World Cup draws to a close, Blatter, who played a pivotal role in the continent hosting the global showpiece, was full of praise for Africa.
"We are not done with the World Cup, but you can see a president who is satisfied. I'm a very happy man," he said.
"I said from the beginning that we trust Africa… it was trust and confidence. I always defended the decision we had taken. When I was asked about plan B, I said plan B is South Africa and plan C is South Africa, that's how much we trusted South Africa."
Blatter further lavished praise on South Africa's match venues, going as far as saying no European country can claim to have the stadiums so beautiful.
"These stadiums are real jewels from the architectural point of view; they are really, really good stadiums and wherever the spectators are in the stadium they have a complete view of the pitch.
"This is an example for further construction of stadiums and there is not one single European country that has so many good and high level stadiums that are available here in South Africa ... not one single European country. Africa can be proud to have organised this World Cup," he said.
For Blatter, however, the World Cup will be complete if the elder state man Nelson Mandela could make it to the Final.
"It will be a wonderful moment for him, football and for Africa if he can make it to the Final," he added.