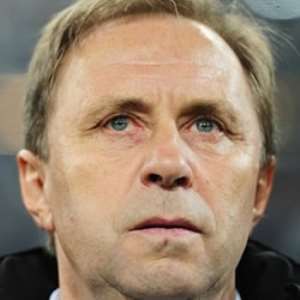 Milovan Rajevac has expressed his desire to stay on as coach of Ghana, after leading the Black Stars to the quarter-finals of the World Cup.
Officials of the Ghana Football Association have sounded their intent to keep the Serbian who has enjoyed a tremendous support since taking over the reigns of the national team.
The Serbian, whose two-year contract with the Ghana Football Association comes to an end later in August, 2010 has confirmed is highly been sort after.
"I am still under contract with the Ghana Football Association," he told www.ghanafa.org.
"Although I have received some offers, I want to continue my work here. I am happy here (Ghana).
"I want to state that I haven't mentioned anything about money and nobody has. Neither the GFA nor me have raised an issue about money."
Rajevac is excited with the talent at hand as he is looks forward to the qualifying for the next World Cup finals in 2014 to be hosted by Brazil with the hope of prolonging his stay.
"There are a lot of good young players, so they already have a core of a team for 2014. And although the way we lost was painful and shocking in the end, this will be great experience for the players and they have a lot of potential to achieve great things.
"I am happy with the talent available and want to work to achieve something greater than we did at the World Cup.
"It's a mutual thing over my contract and we would see how things go. For now, I am going on holiday but would resume work for the next game in August."