Fifa was warned of Nigeria World Cup match-fixing fears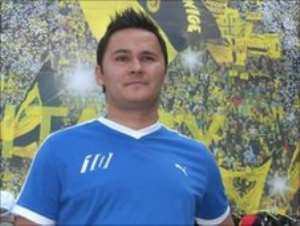 Fifa was warned before this year's World Cup of fears that Nigeria's team could be vulnerable to match-fixing, the BBC has learned.
An investigator for Uefa raised concerns, including suspicions over betting patterns.
Nigeria went out of the tournament in the first round, losing to Greece.
World governing body Fifa does not deny receiving a warning but say it has "no indication" of match-fixing in any World Cup matches.
Anger
BBC Newsnight understands an investigator working with Uefa first became suspicious during qualifying rounds of the World Cup.
It is alleged that certain Nigerian players came forward and said their team was vulnerable to manipulation.
On the morning of Nigeria's first match, he alerted Fifa's new Early Warning System, set up to look for signs of match-rigging, of his concerns.
German journalist Christian Bergmann also had a call just before the first Nigerian game of the tournament from a Uefa contact who said there were suggestions that "some players from the Nigerian team are actually involved in some form of manipulation".
In their second game of the tournament, Nigeria were strong favourites to beat Greece and took an early 1-0 lead.
But after just 33 minutes Nigeria had a man sent off and Greece subsequently scored their first ever World Cup goals to win 2-1.
After their elimination, Nigeria's President Goodluck Jonathan was so angry with the poor performances that he suspended the whole team from international competition. He later reversed that decision following a complaint from Fifa.
Investigation
The Uefa Disciplinary Unit is already working with German Police on the biggest investigation into the rigging of games.
Hundreds of matches across Europe - from Champions League qualifiers to domestic cup and league games - are being scrutinised and match fixers are being held in jail.
There are no English Premier League games on the list of suspect matches, but the BBC has learnt that German police believe many of the bets on fixed games were placed through a London office.
The chief suspect is a Croatian professional gambler and bar owner called Ante Sapina who is currently being held in Germany awaiting trial.
In the past he posed at his bar with footballing greats such as Lionel Messi of Argentina to give himself credibility, but Messi and others were unaware of his secret life as a match-fixer.
Industrial scale
It is alleged that he made a fortune by placing bets on matches and then bribing players to get the required result.
This is not the first time Ante Sapina has been accused of fixing matches.
In 2006 he was sentenced to nearly three years in jail for bribing German referee Robert Hoyzer to fix games.
The German police claim that soon after his release Sapina began fixing matches again on an industrial scale.
They say that Sapina bet millions of euros on fixed games and that many of those bets were placed by a company called Samvo, based just off the Hangar Lane Gyratory System in West London.
Samvo promotes itself as a betting broker which places billions of pounds worth of bets each year on behalf of "high-rollers" and "professional betting syndicates".
Raids
German police papers seen by the BBC name a senior Samvo employee called Eric Ho as the man who placed bets on allegedly fixed games and then passed on the winnings, which were in the region of 100,000 euros a game, to Ante Sapina and others.
Mr Ho has not responded to repeated BBC requests to clarify what he knew.
The BBC has learned that Samvo was raided by City of London police and a German detective at the same time as Sapina was arrested in November 2009.
The officers who were armed with a search warrant discovered that over a million pounds of Sapina's winnings were in an Isle of Man bank account and according to the German detective's report, which the BBC has seen, Samvo agreed not to hand over those winnings to Sapina.
Credit: BBC