Andre shortlisted for Best Young Player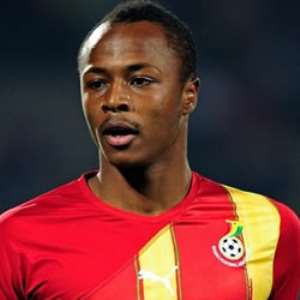 Andre Ayew could gain a major tournament award following his nomination for the Hyundai Best Young Player Award.
The 21 year-old midfielder is part of a three-man list submitted by FIFA's Technical Study Group (TSG) today for the best young player prize in this year's FIFA World Cup.
Andre, who missed Ghana's quarter-final clash picked up a Man-of-the-Match award at the World Cup, faces competition from Germany's Thomas Mueller and Giovani Dos Santos from Mexico.
"All three of the young players shortlisted today have demonstrated exceptional skills during the tournament as well as youthful and refreshing playing styles combined with tactical maturity. Furthermore, their creativity has served as an inspiration to all and earned fan recognition for their performances," the statement said.
The award continues the tradition of officially recognising the positive impact made by young footballers and is open to all participating players born on or after 1 January 1989.
The winner will be selected by the FIFA TSG and announced after the 2010 FIFA World Cup Final. The winner will receive the coveted Hyundai Best Young Player Award trophy and a new Hyundai Tucson ix 35.