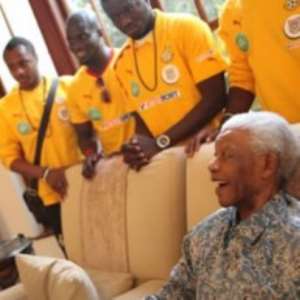 Former South African president Nelson Mandela and his ex-wife Winnie Madikizela-Mandela met the Black Stars of Ghana in their separate homes and commended them for their hard fought game against Uruguay on Friday.
The Mandela Foundation showered praises on the team despite losing to the South Americans in a penalty shoot-out.
"They represented the continent well and although they did not qualify for the semi-finals they can return home with their heads held high," it said in a statement.
The climax of the day's visit according to the Ghanaian FA website was the arrival at the Johannesburg neighbourhood residence of Nelson Mandela where replica Ghana shirts and other items were presented to the revered leader.
Situated in the hall of his beautiful home, players and officials went in batches to shake hands with the 91 year-old Madiba and had the rare opportunity of group photo sessions with the former president.
"It's a dream come true," said midfielder Derek Boateng after the team met Mandela.
"He is a legend, you know, and everybody is talking about him," Boateng said. "It is the first time we have met him."
Earlier, Ghana's team visited the Sowetan home of Madikizela-Mandela where the former wife of Madiba praised and encouraged the players for their wonderful performance.
"I am proud of you," said Madikizela-Mandela as the entire Ghana delegation gathered at her residence.
"Your performance has really lifted our hearts and given us hope. We can always look to a better future."
"Before the World Cup, I lost a great-grand daughter, Zenani Mandela, 13, in a car crash on her way home from a World Cup kick-off concert.
"It was a very sad moment but my sorrows have been replaced with joy due to your performance."
Sowetans showed that Ghana's popularity was still intact as they greeted the players with applause.
"It was a big privilege for me and the players," said Ghana's goalkeeper, Richard Kingson, after that meeting. "She advised (us about) our life and our future, and how to be a good guy and how to control things."


Source: Goal