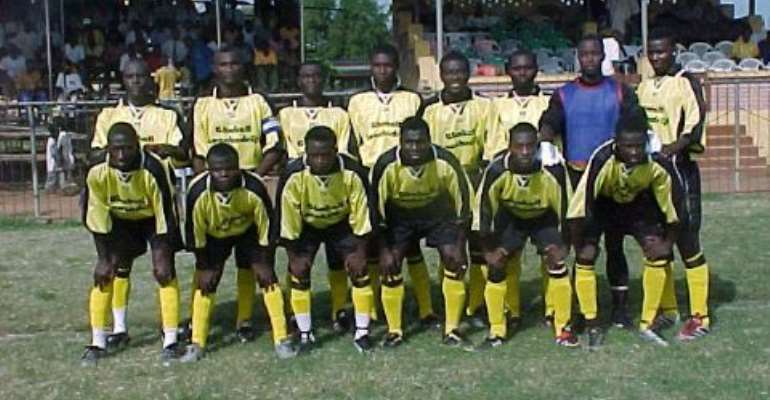 The Management of Brong Ahafo United F/C has expressed its profound appreciation to all those who in diverse ways contributed to the sustenance of the club in the just-ended 2002 premier soccer league.
A statement signed by Mr. Ransford Antwi Management member, thanked supporters for their unflinching support throughout the season, even when the going became so challenging for the Gala Lords, a situation that made some to predict that the Apostles of Power Soccer once again were destined for relegation. It is therefore proper to be ecstatic under our present circumstance, even though we could have done better than we did in the league, the statement alluded.
The statement commended the Ghana Football Association for ensuring a successful season but urged the soccer-governing body to let the truth prevail next season, if the league is to provide the needed excitement and to attract corporate sponsorship into the HIPC Ghanaian premier league. The B/A Management also commended all the 16 participating clubs in the 2002 premier league for contributing to a highly promising soccer season but added, there's more room for improvement. The statement wished Maxbees and Dawu Youngsters who could not survive the premiership the best of everything in the first division and urged Managements of these clubs not to throw their hands in despair but strive to get back into the soccer elite as soon as practicable.
And in another development, the Management of B/A United has sent a goodwill message to Kumasi Asante Kotoko, as the latter prepares to play WYDAD Club of Morocco in the first-leg of the 2002 Cup Winners' Cup Finals in far away Morocco. The message urged the Porcupine Warriors to go all-out to win the cup for their long-suffering fans, their hardworking Management headed by the visionary, Mr. Herbert Mensah and the good people of Ghana, as an X'mas Bonanza. It also reminded the players to play with all the commitment, as their ability to do Ghana proud is not in doubt.