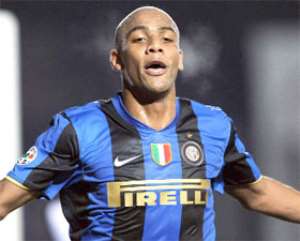 Inter Milan wingback Maicon would relish the chance to follow former coach Jose Mourinho to Real Madrid.
The highly-rated 28-year-old has been heavily linked with a move to the Spanish capital in the wake of the Portuguese's switch from the San Siro to the Bernabeu.
Manchester City are also believed to be interested in the Brazil No2, but Maicon has his sights set on a move to Real.
"What I want is to play at Madrid and for me it would be an honour to be able to do that, because I've already said it would be a great opportunity in my career," he told Spanish daily AS. "With Manchester City, I have nothing (agreed), I can assure."
Given the choice between the two clubs, he added: "I'm going to say it very clearly so there are no misunderstandings. I want to play for Madrid, I don't want to go to Manchester City. Moreover, I repeat that I have nothing (agreed) with the English club."
Maicon also revealed that the former Chelsea manager's presence in the Real hot-seat is an enticing factor. "Mourinho is a great coach and I don't think anybody can dispute that," he said.
"I have a great relationship with him and it would be nice to be able to play under him again. We have won many things together and I hope to be able to repeat that. He's one of the best coaches that I've come across in my life.
"My priority right now is Brazil and to go into the World Cup in the best form possible," he said.
"Hopefully we will have a great tournament and we can finish it as champions."