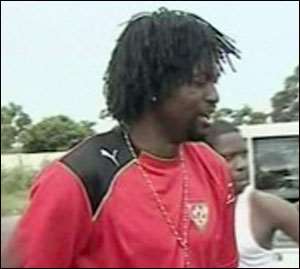 Emmanuel Adebayor
The Confederation of African Football (Caf) president Issa Hayatou has agreed to ask his executive committee to lift the sanctions imposed on Togo.
Caf banned Togo from the next two Africa Cup of Nations for government interference after their withdrawal from Angola.
The latest news follows mediation where the Togo Football Federation agreed it had not complied with Caf regulations.
The Caf executives are due to meet on 15 May for a final decision on the issue.
Togo withdrew from the Nations Cup in Angola following an attack on their team bus that left two people dead in January.
The mediation was led by the Fifa president, Sepp Blatter, after both parties had agreed to interrupt a case due to be heard by the Court of Arbitration of Sport.
"I am very pleased that we have been able to find a solution which is satisfactory for both parties," Blatter said.
"The success today is for the entire football community, in particular for African football.
"This shows that we can solve internal disputes within the football family for the benefit of all those who are involved in our game, and in particular for the players". 
BBC