Owners put Liverpool up for sale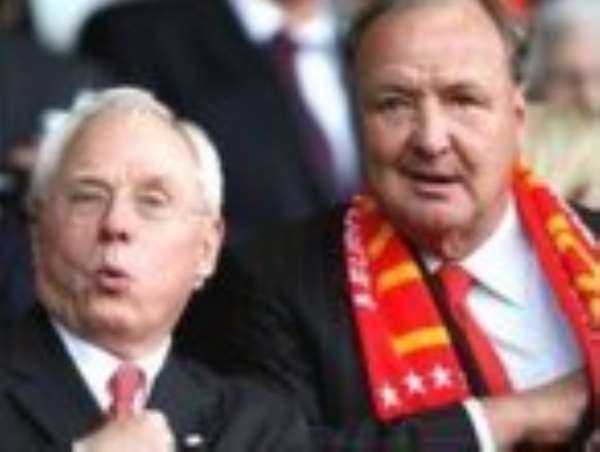 Liverpool owners Tom Hicks and George Gillett have confirmed their intention to sell the debt-ridden Premier League club by appointing a new chairman. British Airways boss Martin Broughton will oversee the sale of the Anfield club, which is £237m in debt.
"They've recognised a complete sale is the right thing to do at this stage in time," Broughton told BBC Sport.
Hicks and Gillett say there have been numerous expressions of interest and have asked Barclays Capital to assist.
Chief executive Christian Purslow, along with two banks - Merrill Lynch and Rothschilds - had been asked to find £100m of investment to satisfy a request from the club's principal creditor, RBS.
But with significant investment not forthcoming and issues over funding for a new stadium in Stanley Park and providing a substantial transfer budget for manager Rafael Benitez becoming increasingly significant, the Americans have decided their best option is to sell up - a move they say has the "full support of the existing bankers".
In a statement, Hicks and Gillett said: "Owning Liverpool Football Club over these past three years has been a rewarding and exciting experience for us and our families.
"Having grown the club this far we have now decided together to look to sell the club to owners committed to take the club through its next level of growth and development.
"We are delighted that Martin Broughton has agreed to take the position of chairman, working alongside the club's excellent senior management team.
"Martin is a distinguished business leader of excellent judgment and with a great reputation. He is a genuine football supporter and will seek to oversee the sales process in the best interests of the club and its supporters."
Broughton, a Chelsea fan, added: "I am excited and honoured to be taking up this position. Liverpool is a great club with a fantastic history.
"I will run this sale process in the right way, for the benefit of the club and its fans.
"Liverpool is one of the world's greatest clubs and my aim is to try and ensure that we find new owners who are able to build on the club's recent improved financial performance in order to help deliver sporting success."
Liverpool are in serious danger of missing out on qualifying for next season's Champions League, which would have a major impact on the finances at the club and the value to any prospective buyer.
They are sixth in the Premier League and trail Manchester City, who occupy the last of the four Champions League places, by six points with four games to play.
Rogan Taylor, who founded ShareLiverpoolFC - where fans would pay £500 for one share with the idea being to run the club along the lines of Barcelona - believes stumbling blocks still remain in the way of the proposed sale.
"The real problem is the price they want - they've piled a lot of debt onto the club and the effects on the pitch have been obvious this season," Taylor told BBC Radio 5 live.
"The question is are they going to be realistic in their valuation of the club - it's only worth what someone will give you for it."
Co-owners Hicks and Gillett have endured a difficult time at Liverpool since taking over at Anfield in March 2007.
Supporters have regularly voiced their dissatisfaction at the level of debt taken on by the club after the buy-out by the American duo.
Last October, several hundred Liverpool fans staged a protest march organised by the Spirit of Shankly group against the owners ahead of their Premier League clash against Manchester United.
The board's popularity with the fans disintegrated further when Hicks' son, Tom Hicks Jr, became embroiled in a row with a supporter who alleged the American had sent him abusive emails.
As a result Hicks Jr resigned as a director of the club and parent company Kop Holdings, leading to a restructure of the board.
Gillett and Hicks have also endured a fractious relationship with each other, which early on in their reign threaten to undermine their ownership with the former revealing the partnership had become "unworkable".
In 2008, Hicks blocked Gillett's moves to sell his 50% share to Dubai International Capital group as the pair feuded over future plans for the club and an outright £500m takeover bid by the DIC group was also rebuffed, with Hicks hinting he would attempt an outright takeover bid himself.
They subsequently patched up their differences but the sense of unrest at the club continued, not least in the often difficult working relationship the board shared with manager Benitez.
The Liverpool boss, who is celebrating his 50th birthday on Friday, is yet to speak to Broughton, but said he was optimistic that any changes would have beneficial consequences for the club.
"I think the club is moving forward and that is positive. It could be good news," Benitez said.
"At this moment, for me as a manager, I have to concentrate on the West Ham game (on Monday)."
The Spaniard has previously spoken of the limited transfer funds made available to him to strengthen his squad, highlighting this as a factor behind the decline of the team's performance on the pitch.
The sale of midfielder Xabi Alonso to Real Madrid for £30m has been widely criticised as Liverpool's difficult campaign unfolded, with his £20m replacement Alberto Aquilani struggling for fitness all season to the frustration of Benitez.
While Hicks and Gillett have publicly backed their manager, who signed a contract until 2014 in March last year, they undermined Benitez's position in 2007 when they admitted to having held talks with former Germany boss Jurgen Klinsmann.
However, Benitez's agent Manuel Garcia Quilon said on Thursday that his client intends to see out the rest of his contract, provided the club's financial situation allows it.
The Liverpool boss has been linked with Juventus again this week, with the Serie A club reportedly having made him their number one target back in January, but Quilon dismissed the recent rumours.
"I have received interest from Italian clubs for players but not for a coach. I have not received any interest (recently) from Juventus for Rafa Benitez," Quilon said.
"Juve approached us back in January but we told them that the coach would not be leaving Liverpool this season."
Benitez has also previously been linked with the Real Madrid post, which seems likely to become vacant again this summer.