Queens paid ¢500,000 bonus each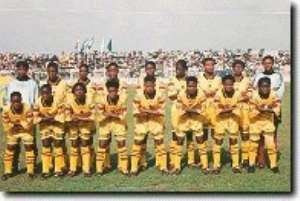 Officials and players of the national women soccer team, the Black Queens have been paid half a million cedis each as their winning bonuses for their away encounter against Senegal a few weeks ago. The bonus issue, which has generated a lot of interest and media hype lately, was paid the Queens last Saturday before the team broke camp. The amount paid them represented half the total of ¢1 million promised them for being victorious in both the home and away encounters. The authorities have promised to pay them the other half later. The GNA Sports has gathered that the team left camp after the monies were paid them by the authorities with instructions that they return to camp on Thursday, October 24. However, a new date would have to be fixed for them to be in camp because Mr. Sylvester Mensah, chairman of the National Women Soccer Committee who is supposed to endorse the invited players is currently away in DR Congo with Kumasi Asante Kotoko. He is expected home today. It would be recalled that the Black Queens moved back to the Winneba Sports College on Sunday October 13 after their 3-1 win over the Senegalese in an Africa Cup qualifier at the Kumasi Stadium on October 19.
The team is expected to stay in camp to prepare for the tournament slated for Nigeria from December 7 to 21.