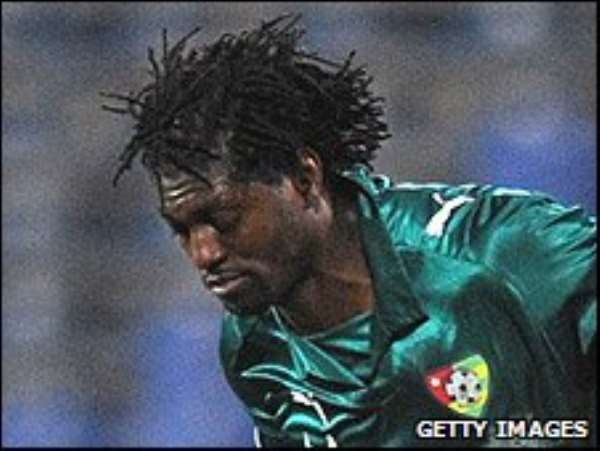 Adebayor appears to have played for his country for the last time

Manchester City and Togo striker Emmanuel Adebayor has announced his retirement from international football.
The decision comes three months after the gun attack on the Togo team bus during this year's Africa Cup of Nations, in which three people died.
A statement from the 26-year-old said: "Following those tragic events... I have made the very difficult decision to retire from international football.
"I am still haunted by the events I witnessed on that horrible afternoon."
He added: "I have weighed up my feelings in the weeks and months since the attack.
"We were just footballers going to play a football match and represent our country, yet we were attacked by people who wanted to kill us all.
"It is a moment I will never forget and one I never want to experience again.
"For nine years I have played for the Togo team and, despite the events in Angola, I have some very good memories of my international career.
"I feel very proud to have been trusted with the position of captain of the Togolese football team. Leading your country in international competition is the ultimate honour for any player.
"The people who were on that coach together will forever be joined by a special bond - we are all brothers.
"I will always have the team and the people of Togo close to my heart and wish them every success in the challenges that they will face in the future."
The Togo team were attacked by gunmen as they made their way from a training camp in the Republic of Congo to in Cabinda City, Angola on 8 January.
Two Togolese officials and an Angolan bus driver were killed in the attack which prompted the Togolese government to pull their country out of the event.
That intervention led to Togo being handed a four-year ban from competing in the competition, a sanction over which they are currently embroiled in an appeal process.
The attack inevitably overshadowed the start of the Cup of Nations - a showpiece event for both Angola, recovering from years of war, and African football ahead of the World Cup in June, which the continent is hosting for the first time.