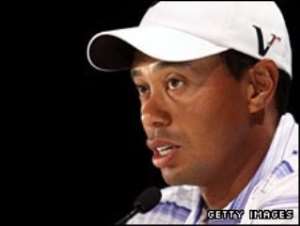 World number one Tiger Woods says he plans to take another break from golf after coming back from his self-imposed exile to play the Masters.
Woods finished in a tie for fourth on his return to action after taking five months off in the wake of revelations about his private life.
The 34-year-old did not specify when he would next be in competitive action.
"I'm going to take a little time off and re-evaluate where I go from here," said 14-time major winner Woods.
The next major of the season is the US Open at Pebble Beach in June while the next event on the PGA Tour is this week's Verizon Heritage, although he could return at the Players Championship in Florida at the start of next month.
Woods struggled with his game throughout the final day, especially off the tee, which only made his fourth-place finish and 11-under total all the more remarkable.
After bogeys at the first, fourth and fifth saw him drop back to five under, he turned things round with an eagle at the seventh followed by birdies at eight and nine, before covering the back nine in a two-under-par 34, including a birdie on the last.
"I finished fourth. It's not what I wanted," said Woods afterwards. "I wanted to win this tournament. As the week went on, I kept hitting the ball worse.
"After Friday it wasn't very good. I entered this event and I only enter events to win but I didn't hit it well enough and made too many mistakes around the green."
Asked about his dour mood as his game got away from him, Woods added: "People are making way too much of a deal on this."