Referees urged to be abreast with rules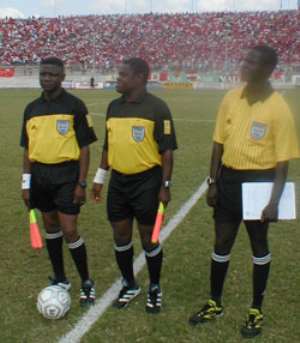 MR Iddrisu Adam, Tamale Municipal Chief Executive has reminded referees in the country that their services should be scarificial and humanitarian other than for financial gain.
He advised them to be always abreast with the laws of the game and not wait till spectators chase them out of the field of play before realising the need to learn.
Mr Adam disclosed this during the opening ceremony of the Referee Association of Ghana (RAG) 2002 Annual Refresher Course and Fitness Test for referees in the Northern and Upper East regions.
The Chief Executive praised the organisers of the course and noted that any organisation which does not give in-service training to its members was bound to fail as far as achievement of objectives were concerned. Alhaji J. B. Yakubu, Chairman of the Northern Region branch of RAG, in his welcome address urged the participants to be serious in all aspects of the course in order to make the most out of it.
He praised the Northern Region referees for their hardwork and informed them that the region boasted of three FIFA referees who handled FIFA and CAF matches outside the country without any problems. He, however, implored them to do better since that was big challenge to them.
The Course Director, DOI S. K. Antwi, reminded the participants that appointment to a higher class was not regional basis but on individual merit. He advised them against complacency and urged them to make the sky their limit.
He said the purpose of the course was to have a uniform interpretation of the laws as far as officiating is concerned.
In his closing remarks, the chairman of the function, Mr J. A. Peters advised the referees to avail themselves of instruction and gather courage in the performance of their duties.