Mills, Nana Addo, John Mahama console the Rawlingses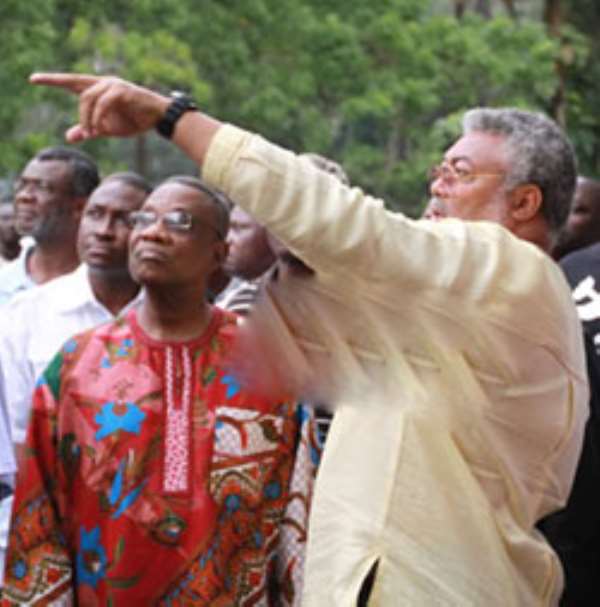 Akufo-Addo sympathises with former President Rawlings Your Excellency, my wife, Rebecca, our children and I, join many other Ghanaians to extend to you, the former First Lady, and your children, our sincere sympathies over the fire that devastated your home and belongings in the early hours of today, February 14, 2010.
We are however grateful to the Almighty that there were no serious injuries to persons. Our prayer is that the Good Lord will continue to protect you and your family. Signed: Nana Addo Dankwa Akufo-Addo
… And Mills too
His Excellency President John Evans Atta Mills has expressed shock at the fire outbreak at the residence of former President Jerry John Rawlings.
The fire, which reportedly started at dawn, gutted the entire residence of the former President, destroying the entire structure and its contents therein.
A statement from the Information Ministry intimated that President Mills had been to the residence to empathise with the former First Family, and to see for himself the extent of damage.
The statement added that President Mills had since tasked the Chief of Staff to, as a matter of urgency, secure what would be a holding place for the former President and his family, while steps are taken to relocate or find a permanent abode for the former First Family.
He is also to ensure that investigations are carried out to ascertain the cause of the fire.
During his interaction with the former First Family, President Mills was thankful to the Almighty God that no lives were lost, and no injuries were incurred.
President Mills has been particularly impressed with the solidarity exhibited towards the former First Family by the Ghanaian people, since the fire outbreak was reported.
The Vice President John Mahama also visited the house later in the day.
Our sympathies to President Rawlings and family The Alliance For Accountable Governance wishes to express its sympathy to ex-President Rawlings and his family, in their hour of need.
As the Bible says in the book of Ecclesiastes, 'No one can anticipate the time of disaster...like fish caught in a snare... so are humans caught in a time of calamity when it suddenly falls upon them.'
This is indeed a time of severe stress to the former family, and AFAG wishes Ghanaians of all works of life offer them assistance and encouragement in whatever manner they can.
AFAG stands with President Rawlings in his time of need. We lend our support, and call for any investigations that would be necessary to establish the cause of this fire outbreak, so as to prevent such a calamity befalling any Ghanaian in future. Arnold Boateng (Secretary)