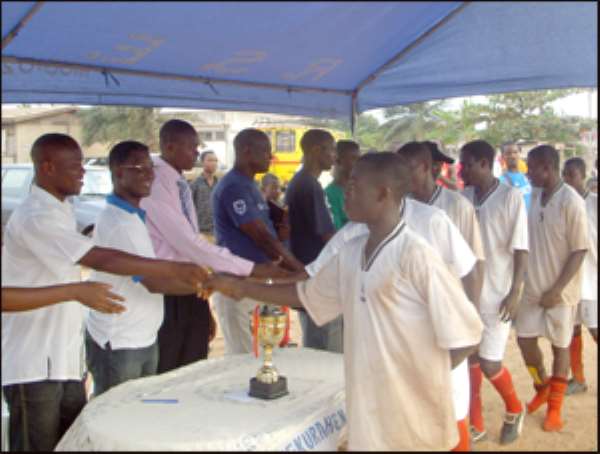 End Time squad lining up to receive the trophy
End Time Repentant FC, a newly-promoted Division Two side based in the Central Region, on Wednesday beat Gunners FC in a friendly encounter at the Korle-Bu Indadfa Park to lift the glittering trophy at stake.
Price Aziafor scored for Gunners in the 15th minute of the second half; but 13 minutes later, Joseph Dadzi alias Mustapha grabbed the equalizer for End Time. Since scores at the end of regulation time was 1-1, the winner had to be decided on penalty shootout, which End Time won 5-3.
Aside the trophy, the winners also took home a cash prize of GH¢100.
After the game, Chairman of End Time FC, Evangelist Aboagye Fauson, who organised the match, said: "I am very happy and grateful to have been able to organise such a wonderful friendly match. And the main essence of this game is to inculcate unity, love and peace among the youth."
The Chairman stated that both teams did well, and for that matter, he issued an amount of GH¢100 and a crate of drinks to Gunners FC, which was founded by former Ghana goalie Ali Jaraah.
End Time FC is based in Abakrampa in the Central Region and the team traveled all the way to play with their counterparts in Accra as part of preparations for the upcoming season.
The team manager, Rev. Maxwell Incoom said the match would help put their players in shape for the Second Division matches which will begin on the 21st February 2010.
The manager of Gunners FC, Felix Achie Mills admitted that the End Time team was a good side, and playing with them exposed his side's weaknesses.
This, according to him, will help them also to identify their problems as part of preparations for the league.
By Naeem A.A. Ghafaar