Jabir, Sai Rumble On Saturday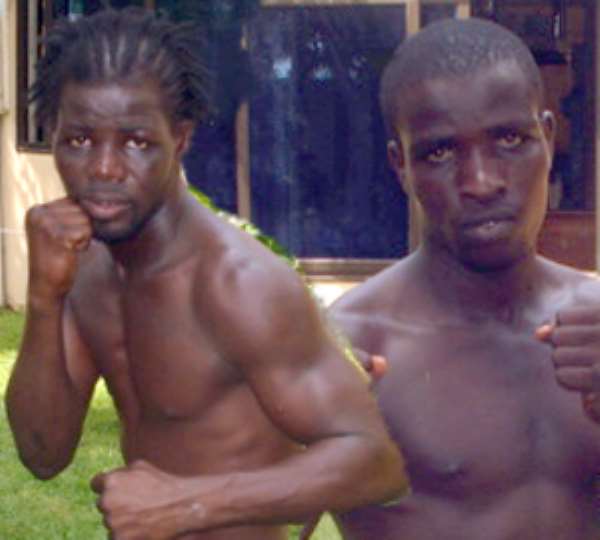 Malik Jabir and Obodai Sai
All is set for this Saturday's 'Valentine Eve Boxing' extravaganza where two of Ghana's finest boxers, Malik Jabir and Obodai Sai, will try to improve their records.
Malik Jabir alias 'Bukom Snake' of Sonia Boxing Club would be staging a comeback for a possible March 6 national title fight when he engages Sumaila Adonaba in a Super Featherweight non-title contest at the Jubilee Pool House, while unbeaten Obodai Sai is expected to battle Espana Somia in a Super Welterweight clash.
Malik Jabir and Obodai Sai, who stormed the offices of DAILY GUIDE, were confident of defeating their opponents to launch a bigger platform for world title fights.
Jabir (20-0-6) told DAILY GUIDE SPORTS that "I am eying a world title fight by the end of the year or next year; hence using this as a platform to prepare for the national title in March."
Explaining further, the former African, West African and African champion said he had trained enough to crush his opponent, urging all his fans to troop to the ringside this Saturday.
Obodai Sai (10 fights, 10 wins and 6 by knockouts) popularly called 'Slaughter House', a sparring partner of Joshua Clottey, said this fight was a warm up match for his March 6 World Boxing Organisation (WBO) Pan African title fight.
The national and West African champion pointed out that "If I am able to annex the WBO title then I would fight for the WBC International title".
According to him, he wants to become a world champion in two years' time.
By Charles Nixon Yeboah