GFA wants FIFA to help retrieve $75K from Ziva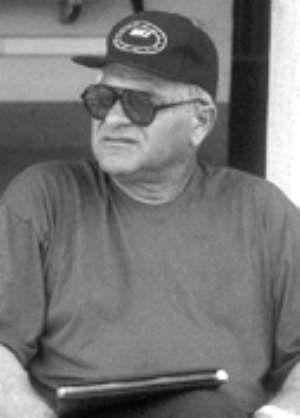 A disappointed Ghana Football Association would take its case to the world's soccer governing body, FIFA for the necessary action against resigned Ghana coach, Millan Zivadinovic.
The FA would be appealing to FIFA not to intervene to bring back Ziva, (as Ghanaians now call him) but to prefer relevant sanctions against the Yugoslav who has a penchant for walking out on contracts.
Perhaps, the cash-strapped GFA would be looking forward to FIFA to help it retrieve some of the $75,000 being three months salary and other benefits paid him.
Ghanaian football officials and the football loving population are furious over the coach's conduct with some leading local newspapers asking whether Mr. Zivadinovic is a coach or a crook.
Milan Zivadinovic resigned from his position as coach of Ghana's national team, the Black Stars, on Monday night. He sent his resignation letter to the Ghana Football Association (GFA) from Yugoslavia, where he is said to be visiting his sick mother.
In the letter sent to his employers, Millan said he was unable to return to continue his two-year contract with the senior national team of the West African country due to unfavourable weather conditions.
The Yugoslav even though told the local media that he left the country to his home country to attend to his sick mother, did not in his letter effectively abrogating the contract with the Ghana Football Association, made no reference to his sick mother. Instead, he blasted the FA for lack of cooperation during the days leading to the Black Stars game against the Cranes of Uganda.
Zivadinovic accused the FA of undermining his team-building effort by canceling three matches he had arranged for the Black Stars in Turkey and Yugoslavia.
Re-echoing the criticism he roared out in the immediate aftermath of the Kampala defeat, Millan labeled the FA's behaviour as a breach of contract and emphasized his unwillingness to continue working in Ghana.
Sports analysts ascribe fraud to the coach's behaviour. Before leaving the country, the 58-year-old Yugoslav collected his signing-on fee of $15,000 and been paid $10,000 for each of the three months he was supposed to be working with the Black Stars and the national Under 23 team.
For all that, he played only one match with the senior national team and lost it. He took advantage of Liberia's withdrawal from the All Africa Games qualifier against the country's Under-23 team to leave for Yugoslavia, saying he had to attend to his sick mother.
Millan's strange behaviour creates a void for the GFA and the ministry of youth and sports to fill before October 13 when the Black Stars are expected to play their second of their 2004 Nations Cup qualifier against robust Rwanda in Accra.
Meanwhile, Malik Jabir and Isaac Paha – both former internationals - in conjunction with Emmanuel Afranie, will manage the national team.