Pharaohs Spoil Nation's Party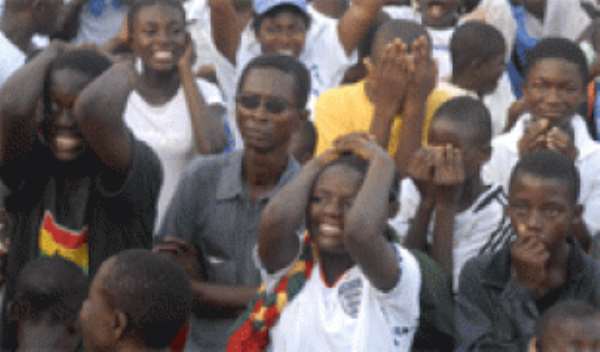 Disappointment boldly written on the faces of these fans.
The nation's capital last Sunday went 'dead' as planned celebrations of most Ghanaians were shelved for obvious disappointment of the outcome of the final match between the Black Stars and the Pharaohs of Egypt in the finals of the Africa Nations Cup.
The anticipated victory of the Stars by most Ghanaians after 28 years became a mirage when the team lost 0-1 to Egypt in the finals of the Africa Cup of Nations in Angola last Sunday.
Even though the team put up a gallant performance against the defending champions, the Egyptians managed a breakthrough when goalking of the tournament, Gedo, slot the ball past Richard Kingson, after they had been pinned to their half for most time of the game.
The entire atmosphere went dead, a sharp contrast to what was witnessed when the Black Stars beat their Angolans and their Nigerian counterparts in the quarter and semi- finals respectively.
Most streets appeared deserted of the usual vehicular traffic after the game, while various drinking spots that is usually choked with soccer fans observed very low patronage.
A number of fans the Graphic Sports spoke to appreciated the team for the sterling perfomance they put up defending the flag of the country.
'We are happy about the way our Stars played, they did not disgrace us but our prepared celebration had to be abandoned because we lost' a fan noted, adding that the inclusion of some of the senior players could, perhaps, have changed the story.
Another happy fan the Graphic Sports spoke to was encouraged by the spirited perfomance by the Stars saying 'we played far better than the Egyptians but we paid dearly for a sloppy defending but generally I congratulate the team for their efforts' he said.
'These are young players who are barely exposed to competition of this nature and for them to have performed so wonderfully and I know when given the necessary motivation and ecouragement, they could take the the world by storm in future.'
But they overwhelmingly approved the idea of maintaining the team to represent the country in future engagements.