Tragedy-hit Nations Cup come to a close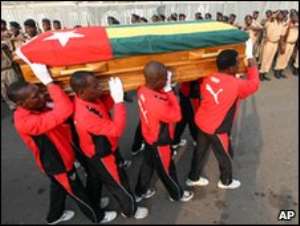 Overshadowed by a tragic attack on Togo, the 2010 Africa Cup of Nations reaches its climax here Sunday with a beguiling final between defending champions Egypt and Ghana's gallant youngsters.
This continental feast of football began in tragedy when two members of Togo's delegation were shot and killed during a 20-minute machine gun ambush on the team convoy as it arrived in the restive Angolan enclave of Cabinda.
The armed wing of the Front for the Liberation of the Enclave of Cabinda (FLEC), embroiled in a decades-long separatist struggle, claimed responsibility for the January 8 attack.
Togo quit the competition at their government's request which led to their suspension on Saturday from the next two editions in 2012 and 2014 by organisers the Confederation of African Football (CAF).
The Cabinda attack led to calls for the 2010 Africa Cup of Nations to be called off but it went ahead with Angolan police and army beefing up security.
The three remaining Group B teams based in Cabinda were cordoned off by a heavily-fortified security ring.
The competition got underway as scheduled on January 10 with a minute's silence in memory of the dead and injured, who included goalkeeper Kodjovi Obilale.
Obilale was airlifted to a hospital in Johannesburg where he is receiving treatment after gun shots to the back and abdomen.
On the pitch only Ghana, of all the five World Cup qualifiers using this tournament as a dress rehearsal for South Afirca, emerged with any real credit.
Beset by a raft of injuries to their top players including captain and Chelsea midfielder Michael Essien, Ghana had to rely on no fewer than eight of their Under-20 World Cup winning squad.
The Black Stars belied their inexperience to progress to Sunday's final at Luanda's 50,000-capacity 11 November stadium, which like the other three brand new venues of Cabinda, Lubango and Benguela was built using Chinese expertise.
Ghana face an Egypt side that has steamrollered into the final to make a mockery of their failure to qualify for the World Cup.
Success later Sunday will hand Egypt their third successive title, and seventh overall.
Star player Mohamed Zidan, stated: "We haven't won five games here in this competition to lose the final."
Ghana though have shown scant respect to their supposed superiors, beating hosts Angola in the last eight and fellow World Cup qualifiers Nigeria in the semi-final, their team benefitting from Serb coach Milovan Rajevic's pragmatism.
"What's more important, playing beautiful football or the result?" he remarked ahead of the country's first title-shot in 18 years.
The final, preceded by the closing ceremony with Angola President Jose Eduardo dos Santos in attendence, kicks-off at 1600 GMT with the smart money on Egypt confirming their status as the kings of Africa.
Togo meanwhile have been urged to appeal their two-competition ban by midfielder Thomas Dossevi.
"We are a group of footballers who came under fire and now we can't play football any more. They are crushing us," he said.
And in a seperate development, families of the assistant coach and the press officer who were killed are suing CAF and the Angolan government.
"We are taking legal action because our compatriots were killed because of the mistakes of the Confederation of African Football (and) its president Mr Issa Hayatou," lawyer Alexis Aquereburu explained.
"(The legal claim is) also against the Angolan state for putting in danger the life of our compatriots by organising this African Nations Cup in a war zone."
For more Ghana football news visit www.ghanasoccernet.com