Ghana protest raises temperature ahead of Angola clash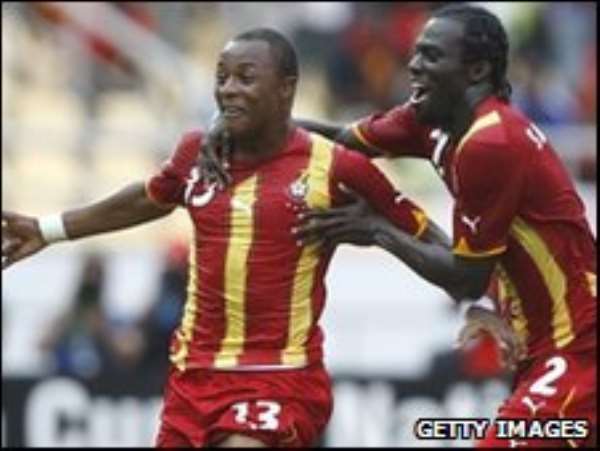 Black Stars are charged for the game
Hosts Angola and Ghana meet in Luanda on Sunday in what promises to be an electric Africa Cup of Nations quarter-final played out in front of the competition hosts' 50,000 fan base at the 11 November stadium.
The build-up has been dominated by claims from the Ghana Football Association of "intimidatory" tactics by Angolan security forces designed they say to destabilise the team.
A Ghana fan and journalist have both been subjected to assaults by Angolan police in Luanda this week, but GFA spokesman Randy Abbey insisted Ghana would not be distracted from Sunday's quarter-final.
"Psychologically this will not affect the team," Abbey said.
"That is why the leaders of the team have decided to take up this pressure and stress and allow the players to relax and focus on the match itself.
"If it's a new form of tactics, then they better think of breaking our legs as well," he added.
World Cup qualifiers Ghana made it through to the last eight as Group B runners-up after a 3-1 loss to Ivory Coast and a 1-0 win over Burkina Faso.
Angola ensured their Cup party continued with an opening 4-4 draw to Mali, a 2-0 win over Malawi and a contentious goalless draw with Algeria to finish top of Group A.
Ghana, who are seeking to end a 27-tear title drought, go into Sunday's game buoyed by the return to fitness of Rennes striker Asamoah Gyan and Rosenborg midfielder Anthony Annan.
Coach Milovan Rajevic has had to rely heavily on his squad's younger members after a raft of injuries to key players, the latest Chelsea star Michael Essien's training setback in the run up to Tuesday's final Group B tie against Burkina Faso.
Annan missed both first round games while Gyan had to come off injured against Burkina Faso.
Udinese midfielder Kwadwo Asamoah is hopeful Ghana's injury woes are behind them.
"Hopefully, we will have some of our colleagues back. Michael (Essien) is not returning, but the return of others will be pivotal."
Asamoah said he was not concerned at playing Angola in their Luanda fortress.
"We played them before in a friendly and know much about them. It will definitely be a difficult match," he said.
"When we played against them in the friendly, it was the same atmosphere. It had no effect on our play and so will it be this time.
"In football, supporters don't count; it is the pitch that determines the winner."
One of Ghana's absentees is influential captain Stephen Appiah, who has urged the young Black Stars side to aproach every game as though it were the final itself.
"I would like to congratulate the Black Stars for making the quarter-finals despite the immense pressure they were under," Appiah wrote on his personal website.
"They showed character and determination in beating Burkina Faso and I am really pleased with their reaction after losing to Ivory Coast. It takes a lot of mental strength and they did very well.
"From here on in, it is going to be difficult because every game is a final. One strike and you are out, so they need to keep believing in themselves and fighting to the end in every game.
"I have faith in the team and I am looking forward to watching them on Sunday."
Angola coach Manuel Jose is also counting on the return to fitness of some key personnel, not least midfielder Dede and joint top scorer with three goals Flavio.
Looking ahead to Sunday defender Dias Caires commented: "We're motivated and ready for Ghana. It's not going to be easy, Ghana need to be respected, but we're training and thinking only about victory."
The Black Antelopes go into one of the biggest games in their history with divine backing.
Gaspar Domingos, Bishop of the United Methodist Church of Angola, told Angolan news agency Angop: "Angola have to win the title and my prayer each day is that our players find the force, energy and fitness to succeed.
"The players must be in full physical and spiritual condition to win."