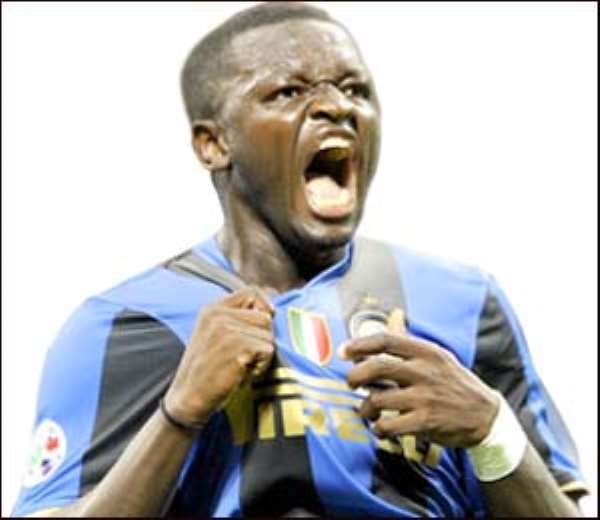 Sulley Muntari
Portsmouth have been reported to the Court of Arbitration for Sport (Cas) by Udinese over money the Italian club say they are owed for Sulley Muntari.
Muntari joined Portsmouth from Udinese for £7m in May 2007 before switching to Inter Milan in 2008 for £12.7m.
Udinese say that Pompey have yet to pay the full amount, with reports suggesting they still owe £3.5m.
But Pompey director Mark Jacob said on Monday that the club were close to finalising an agreement.
"We have now paid off the three UK clubs," said Jacob.
"We have agreed with Rennes and Lens (two other clubs owed money by Portsmouth) to accept certain payments now, and then defer a schedule of payments going forward.
"We are in the process of finalising an agreement with Udinese."
Beleaguered Pompey have been barred from signing new players as they still owe money to clubs for previous transfers.
The Premier League banned the club from operating in the transfer market and has redistributed the club's £7m share of the latest TV income to debtors, although Pompey have written to the Premier League demanding that the embargo be lifted.
The much-publicised financial problems at Fratton Park have showed little sign of abating in recent weeks, with fresh bad news hitting the club on an almost daily basis.
Portsmouth's staff and players have also been hit by the club's financial problems with salaries failing to be paid on time three times this season.