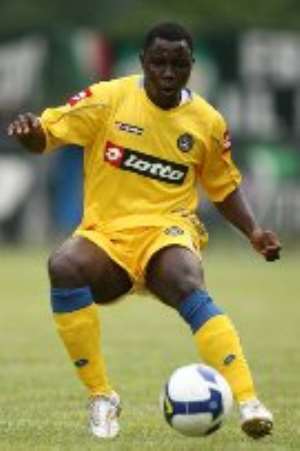 Asamoah is a key player for the Stars
Ghana midfielder Kwadwo Asamoah says the Black Stars will continue to improve as as they plan to go the long haul at the Africa Cup of Nations in Angola.
The West Africans reached the last eight of the tournament on Tuesday after beating Burkina Faso 1-0 to finsh second in Group B.
The Black Stars are dominated by young players because on injuries to several key starters which has drawn some criticism.
The Udinese player, has been instrumental in Ghana's game plan, is happy with their mental toughness and team work, insisting they will prevail.
"We are beginning to find our feet and pattern. Between now and our next game, we will improve and keep our focus of playing in the final," Asamoah said.
 
"Initially it was difficult for us to get the right connection but now we are okay and we have to do more and surprise the world.
"We have a young team but no team can write us off because we have good players in camp."
Ghana's next opponents will play hosts Angola on Sunday in the last eight in Luanda.