Essien-Drogba Chelsea clash in crucial Nations Cup game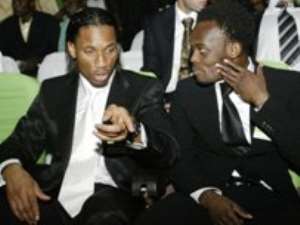 Faced with the prospect of an early exit, tournament favourite Ivory Coast cannot afford another slip-up when it takes on Ghana on Friday in its final group game in the African Cup of Nations.
 
With Togo having pulled out of the competition in the wakeof the attack on its team bus that left three people dead, each team in Group Bnow plays just two games.
 
Two of the three countries will qualify for thequarter-finals but Ivory Coast only drew 0-0 with Burkina Faso in its openinggame, leaving the Elephants under serious pressure ahead of its match againstGhana.
 
"We are now in a very difficult position but still haveall the cards in our hands and I know we can go through to the knockoutphase," Ivory Coast coach Vahid Halilhodzic said.
 
"Togo being outcauses us problems. It will be a difficult match against Ghana but we have ourfate in our hands."
 
This much-anticipated match between two World Cup qualifierswill also feature a battle between three Chelsea players: Ghana's MichaelEssien and Ivory Coast pair Didier Drogba and Salomon Kalou.
 
Essien only joined up with his teammates Wednesday afterbeing forced to stay in London because extreme weather conditions delayedflights out of England.
 
The Black Stars midfielder has recovered from ahamstring injury sustained during a Champions League match in early Decemberand should be available for the game in Cabinda.
 
Ghana will be without midfielders Anthony Annan and StephenAppiah, as well as defender John Pantsil. Coach Milovan Rajevac will thereforecall on several members of the squad that won the FIFA Ur-20 World Cup,including Andre Ayew, the son of three-time African Player of the Year AbediPele.
 
"We want to win this competition but this first game isgoing to be interesting, pitting our very young team against one of the bestand most experienced sides in Africa," Rajevac said.
 
Ivory Coast, which reached the tournament's final four yearsago but won its only title in 1992, did not impress against Burkina Faso, withDrogba saying after the match that the attack on the Togo bus prior to thetournament had deeply affected the team.
 
"After what happened a few days ago, it was difficultto concentrate," Drogba said. "Now we are facing a tough task, but itis tough for everyone."
 
While Ghana can qualify with a win, a defeat would notautomatically put the Elephants out of contention for a quarter-final berth.
 
But Halilhodzic's team would have to wait until the last group game betweenBurkina Faso and Ghana to discover its fate.
 
"I am confident. We are going to work hard to be readyagainst one of the best teams in Africa," Ivory Coast defender Kolo Touresaid.
 
"We need to show character. We have the spirit, the team."
For more Ghana football news visit www.ghanasoccernet.com