Michael Essien writes: Nations Cup will be full of shocks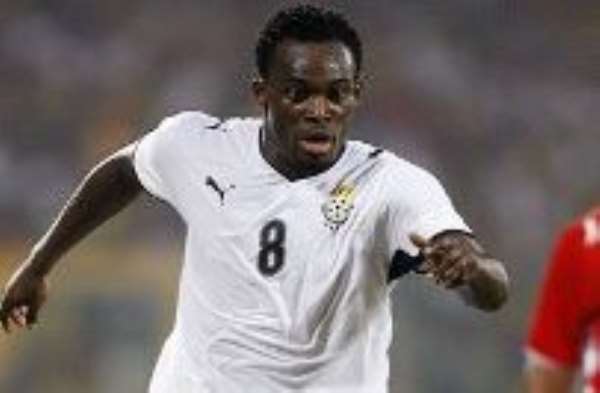 Essien says he can't wait to meet Drogba
 
Having touched down in Angola only a matter of hours ago, Michael Essien has already posted his first blog entry from the Africa Cup of Nations. The Chelsea midfielder was a latecomer to the African party, but reports he is already settling in and acclimatising to the Angolan heat, and is looking forward to clashing with Didier Drogba and Salomon Kalou on Friday.
 
 
Hello Everyone.
I have finally arrived in Cabinda – Angola after cancelled flights and a long journey through Luanda.
 
The first thing I have to say is its very hot! Sorry to all the readers in England & cold parts of Europe.
 
I was going to tell you the temperature but I don't want to rub it in
 
Being from Ghana it shouldn't take me long to acclimatize and hope to be in the groove as soon as possible.
Before I tell you anymore I will like to express my sincere condolences to the people of Togo for the tragic events at the start of the tournament. 
I hope they can overcome the tragic scenes they witnessed as soon possible. 
Football unites us all and hopefully we can carry on with the tournament peacefully to bring joy and happiness to everyone.
  
The Ghana camp is calm and is looking forward to the first game against Ivory Coast. 
You can tell the boys are itching to get going because at tournaments like this you want to get your first game out of the way and settle properly
 
I haven't seen many parts of Cabinda yet but the football fever can be felt on the streets with all the posters and merchandise amongst other things. 
Its in the news and on radio so you can't miss it at all and I am sure once I start training I will catch CAN 2010 buzz.
 
What I find different here is that all the teams are in one complex so it's likely we will bump into each more often than only on match days. 
It's similar to being in an Olympic village. Normally we are all in different hotels at tournaments but Angola have done it differently which is interesting.
 
I am only just settling in so will tell you more in the coming days however the best of what I have seen so far is the Mali comeback. 
To come back from 4 – 0 down with 11 minutes to go is a massive achievement by any standard. There will be some more shocks along the way without a doubt.
 
On a different note I will like to congratulate Didier Drogba for winning the BBC African Footballer of the year 2009. 
There were some strong contenders so for him to top it all is a brilliant achievement. Well done Didier.
 
Ess