Essien expects Nations Cup upsets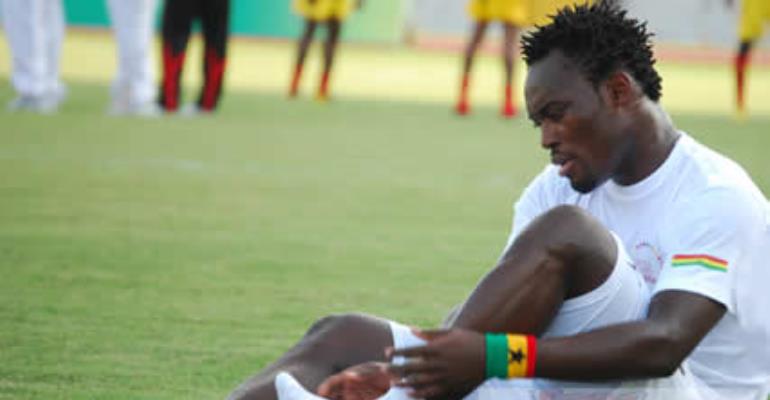 The opening round of matches at the African Cup of Nations has recorded some upsets as the established nations record mixed results.
Though too early to conclude a balance of power or a title tilt, Ghana's Michael Essien reckons that the tournament in Angola is likely to witness more shocks.
Essien, who could only join the Ghana squad on Wednesday in Cabinda after having had his arrival delayed by the wintry weather conditions in London has been reflecting on the competition so far in his personal blog.
The Nations Cup could barely have started with worse tidings as Togo exited from the competition in the wake of last Friday's deadly gun attack on the team bus in Cabinda.
"I will like to express my sincere condolences to the people of Togo for the tragic events at the start of the tournament.
"I hope they can overcome the tragic scenes they witnessed as soon possible.
"Football unites us all and hopefully we can carry on with the tournament peacefully to bring joy and happiness to everyone."
Then came the poor start by three - Nigeria, Cameroon and Algeria - of Africa's 2010 World Cup finalists who have fallen to defeats with Ivory Coast struggling to earn a draw in their opening match as all risk early exits from the competition.
"The best of what I have seen so far is the Mali [Angola-Mali opening game which finished 4-4] comeback," Essien said.
"To come back from 4 – 0 down with 11 minutes to go is a massive achievement by any standard.There will be some more shocks along the way without a doubt."
Essien, who has recovered from a hamstring injury that kept him out for a month is likely to lead the Black Stars when Ghana opens its campaign against pre-tournament favourites, Ivory Coast.
The level of expectation is set to be high as Ghana aim to advance to the quarter-finals and Eesien says the squad is raring to go.
"The Ghana camp is calm and is looking forward to the first game against Ivory Coast.
"You can tell the boys are itching to get going because at tournaments like this you want to get your first game out of the way and settle properly," he said.