Milo has no Issue with Essien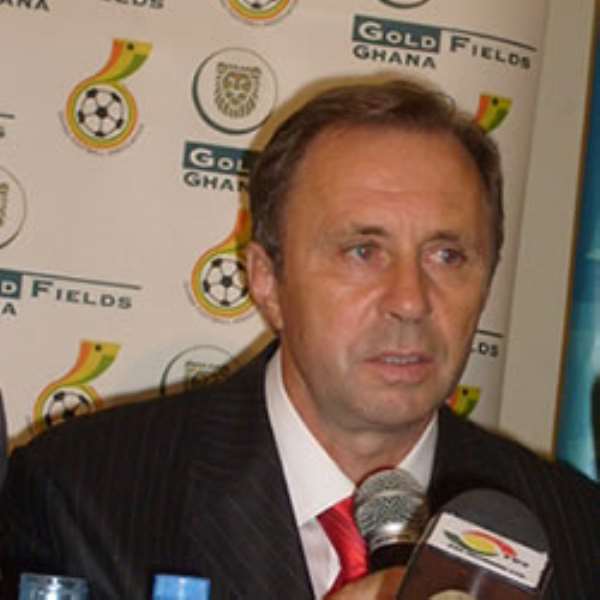 Stars coach Rajevac

Ghana's coach, Milovan Rajevac, says he does not intend to make an issue out of Essien's reaction to Muntari's exclusion from the squad for the up-coming African Cup of Nations in Angola.
Rajevac left Accra Sunday for Nelspruit, in the north-eastern part of South Africa to begin preparations for the tournament amid a purported concern by Michael Essien over the omission of Inter Milan's Sulley Muntari from the Ghana squad.
The coach says the bigger job is to get his preparations going and does not intend making the supposed reaction by Essien an issue when the Chelsea player turns up at the Ghana camp preparing for the Nations Cup.
"No, I haven't spoken to him. I just want to focus and prepare on the next challenge we have coming up. "I don't intend making a big issue out of it. We have a team called up and a job to do which we must all be committed to.
"Of course, they [Essien and Muntari] have a wonderful relationship. They have been playing for a long time and share between them good things. I would want to understand that it's only natural for such a reaction from him [Essien]," Rajevac said.
With players picked on form, fitness and suitability to his tactics, Rajevac suggests that personal relationships will have to give way to commitment and professionalism in order to achieve something great for the team.
"Michael [Essien] is great player and he has a huge impact in any team he plays for. He brings confidence to the team and his colleagues know they can always count on him.
"He is such a wonderful professional who shows 100% commitment anytime he gets onto the field. He has played in matches against Mali and Sudan without some players and still put in very good performances.
"No one can doubt Essien's commitment to Ghana. He sometimes plays through pain and that tells you the sort of player we have and can count on."I know he is a professional and he would do a professional job for Ghana. "It [His concerns] wouldn't be an issue. There is no dismay about it," the Ghana coach said.



Source: Ghanafa.org