ECG Assures Power Supply During X'mas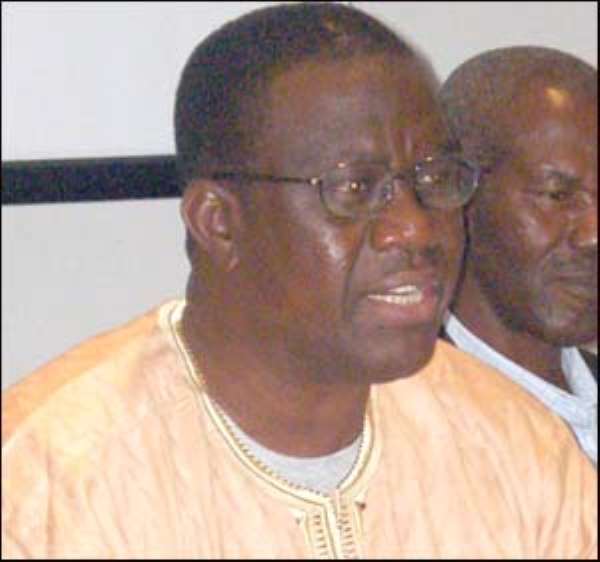 Alhaji D.A. Jangu addressing the media
Ghanaians in the Accra-West region would experience no power outage during the Yuletide period as the Accra-West District of the Electricity Company of Ghana (ECG) has assured consumers of constant electricity supply during the period and beyond.
ECG says despite the fact that it receives power transmission from Ghana Grid Company (GRIDCO), and subsequently supplies to consumers, it has put enough measures in place to avert any likely power outages that may inconvenience consumers.
Alhaji D. A. Jangu, the Regional Director of Accra-West region, noted that consumers should therefore not blame his outfit entirely when there are outages, since "they also rely on the Volta River Authority (VRA) to generate energy for GRIDCO, which in turn supplies to ECG."
"So when there are problems with these outfits, it can also affect the operations of ECG."
"However, we have put in place systems that will quickly address faults that may arise so as to ensure that our consumers receive constant power supply provided we also receive constant supply from GRIDCO," he emphasized.
Alhaji Jangu was speaking at the maiden media interaction organized by the Accra-West region of ECG on Friday.
The Accra-West region comprises of districts such as Korle-Bu, Dansoman, Kaneshie, Achimota, Nsawam and Bortianor.
Touching on the issue of pre-paid meters, he noted that pre-paid meters started in the Accra-West region in 1996, beginning with the Cash Power, but it has now been changed to Smart Cash.
He revealed that the Accra-West region had installed 78,074 Smart cash prepaid meters in Korle-Bu, Dansoman and Kaneshie Districts.
The remaining districts will also get their pre-paid meters by the beginning of 2010.
He outlined some benefits of the pre-paid meter as "the consumer decides on how much money you want to commit to your Electricity Consumption because you pay before you use electricity and must make a conscious effort to conserve energy by reducing cost to reduce the risk of disconnection and no more estimated bills."
Despite these benefits, the pre-paid meter has numerous challenges, which include problems with transferring data from remote control onto the meter, customer perception that units loaded onto the meter run faster that the credit meter or pay and smile prepaid meter, and long queues at customer services centers when purchasing units.
Alhaji Jangu explained that in order to prevent the long queues, measures have been put in place to reduce the hustle customers go through before purchasing units.
He said, "ECG has contracted the service of 19 private pre-payment vending companies who are currently operating at various locations to reduce the distance and the hustle customers go through before purchasing energy units."
He indicated that in its efforts to improve electricity supply to the Accra-West region, the company has spent an amount of GH¢4,104,660.50 on a number of projects, some of which include up-grading of main cable at main station D-Avenor, replacement of weak portions of an under-ground cable on 11KV feeder at Fadama and replacement of cooper conductors & annealed aluminum conductors from Ofankor to Pokuase on the previous Nsawam feeder to forestall occurrence of stolen conductors and outages.
He however called on consumers to make use of the ECG call center and report faults promptly so they could be worked on.
By Esther Awuah