Serbia unveil plans to spy on Ghana at Nations Cup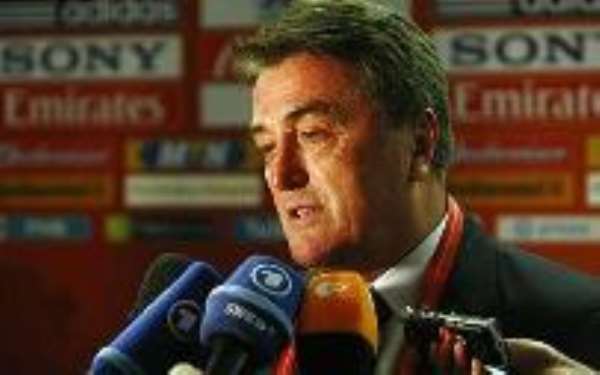 Antic will spy on the Black Stars
Ghana's opponents at the 2010 World Cup, Serbia, have announced a comprehensive plan to spy on the Black Stars at next month's African Cup of Nations in Angola.
 
The Black Stars were drawn in Group D of the the 2010 World Cup with 2006 semi-finalists Germany, Australia and Serbia.
Serbia coach Radomir Antic announced the plan the spy on Ghana at the tournament six months before the World Cup.
Antic was handed a boost on Friday after his contract was extended to 2012 and acknowledged the Ghanaians would be a tough nut to crack.
He said: "We will soon have a chance to make an in-depth analysis of their qualities, starting with the African Nations Cup in January."
Antic has extended his contract as Serbia coach until the end of their Euro 2012 campaign after getting the team out of a "deep black hole", in the words of his Football Association chief.
Antic, who steered Serbia to next year's World Cup finals in South Africa for their first major tournament as an independent nation, said on Friday he was under no pressure to qualify for the Euro 2012 finals in Poland and Ukraine.
"We know that expectations are higher after we reached the World Cup finals but any kind of pressure to qualify for every event from now on would be completely counterproductive," Antic told Reuters.
"We have to take it one step at a time and enjoy the Christmas festivities first. We have plenty of time to prepare for the World Cup where we hope to give our fans a lot to cheer about."
Antic was named Serbia's coach of the year at a gala on Friday, while CSKA Moscow winger Milos Krasic was named player of the year.
Serbian Football Association president Tomislav Karadzic said Antic had pulled Serbia's soccer out of the doldrums when he took over in August 2008 only two weeks before the World Cup qualifiers started.
"We were in a deep black hole 18 months ago after failing to qualify for Euro 2008 and soccer was virtually off Serbia's sports map," Karadzic said.
Serbia were drawn in Group D with 2006 semi-finalists Germany, Australia and Ghana, who are coached by their compatriot Milovan Rajevac.