Milgro Milk Rewards Customers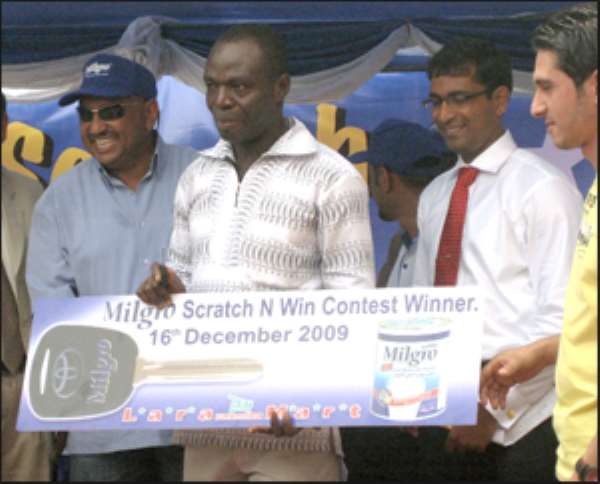 Award winner
Winners of the just-ended "Milgro Scratch and Win promotion" have been presented with their prizes at a ceremony held in Accra yesterday.
Nana Kojo Daniel Derah, a 39-year-old storekeeper at Okaishie in Accra won the grand prize, taking away a brand new Toyota Corolla Car.
Other prizes were four flat screen TVs, 55 colour TVs, 75 mobile phones and 40 DVD's.
Milgro is a well-known global brand for caring and health conscious mothers.
During the "Scratch 'N' Win promo", which was launched in Ghana about 3 years ago, milgro became renowned for consistently providing its consumers with the highest quality, taste and nutrition at affordable prices.
Milgro milk powder is rich in vitamin A for better vision, vitamin D3, calcium for stronger bones and proteins for better growth.
Packed at a state-of-the-art ISO 900 I & HACCP certified hygienic plant, Milgro milk powder is of the highest quality, which is sourced only from the lush green pastures of New Zealand -the world's best milk producing country.
Produced and marketed internationally by Pacific Inter-link (PIL), Milgro is a leading player in the full cream milk powder segment across a number of countries in the world.
Pacific Inter Link's FMCG products are exported to over 50 global markets.
Speaking at the prize-giving ceremony, Avinash Bhandari, the Head of Consumer products division of Pacific Intier-Link (PIL) Malaysia, said Milgro is currently the best value for money brand that is available to discerning Ghanaian consumers.
Presently, it is available in a fresh and safe-to-keep 400gm tin across Ghana.
Pankaj Gupta, Senior Marketing Manager of PIL, appealed to Ghanaian consumers to "try the milk as they would like the taste."
He reiterated his outfit commitment in introducing more consumer promotions by 2010.
Milgro is distributed in Ghana through its distribution partner, Taj Investment limited and is available in leading supermarkets such as Lara Mart Supermarket, among others.
From Business Desk