Fifa favours Germany over Ghana at World Cup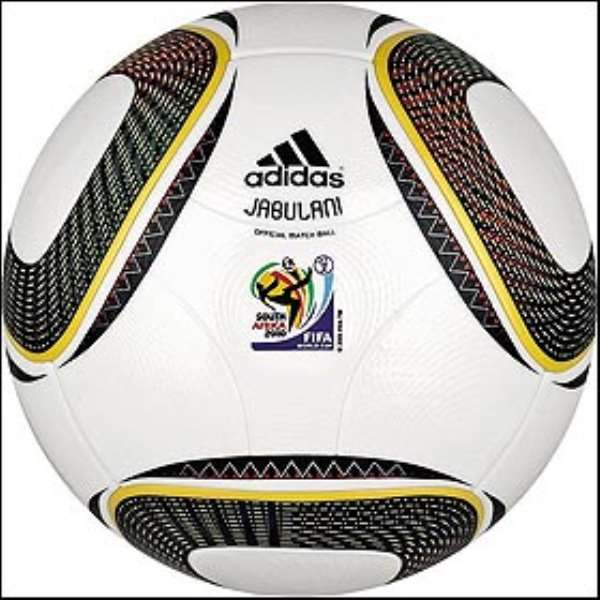 Jabulani will be used at the World Cup
Ghana fans are crying foul after it emerged German stars are ALREADY using the ball designed for next summer's World Cup.
 
The Black Stars are in the same group as Germany at next year's tournament to be held in South Africa but their players have been allowed to use the ball in the Bundesliga.
There were fears they could have a crucial advantage in getting used to the new ball, which German makers Adidas claim is 20 per cent more accurate.
Fifa has been blamed by many Black Stars fans for allowing Germany to use the ball which has been viewed by the West Africans as favouritism.
Their use of the official ball - named Jabulani, Zulu for "to celebrate" - is bound to irritate Black Stars boss Milovan Rajevac.
A Ghana football fan told Ghanasoccernet: "There must be equality in the game as this act is clearly a way of favouring one country over another.
"Because the Germans are using the ball already in their league it will give them an advantage when Ghana meets Germany at the World Cup. This is not fair."
Even England who are not in the same group with Ghana are complaining over the way Fifa has allowed Adidas to favour Germany.
An England source told the Sun: "Coach Fabio Capello knows small things can make a big difference at international level."
A Three Lions fan added: "Everyone should be treated the same. Free-kick takers and goalies would be particularly keen on getting the ball."
German stars stole a march last week because adidas sponsor a host of clubs in the Bundesliga.
The ball will also be used early next year in leagues in Argentina and, worryingly, some other leagues too as well to hand them the advantage.
Adidas admitted: "There are advancements in this ball and the amount of practice you have with it might give you an edge."
Ghana are in the same group as Germany, Australia and Serbia.