Arsenal in 'wild goose chase' over Essien protest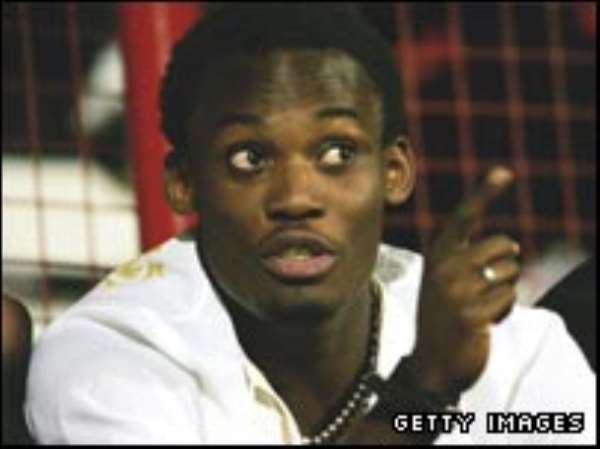 Essien was played in the game legally
English side Arsenal have been sent on a 'wild goose chase' in their quest to have points docked from Chelsea's haul over fielding Michael Essien last month, a top source within the Ghana FA has told Ghanasoccernet.
Arsenal manager Arsene Wenger is keen on launching a complaint that Chelsea broke FIFA rules which could sensationally see the Premier League leaders docked points.
Wenger believes Chelsea broke FIFA rules by playing Michael Essien in the 4-0 victory over Wolves on November 21, 2009. 
Under FIFA regulations Essien, who scored twice in the game, should have been ineligible after he had refused to turn up for Ghana's friendly with Angola three days before.
The Arsenal manager feels Essien should have been suspended for Chelsea's next match against the Gunners which the Blues won 3-0. 
But Ghanasoccernet source within the Ghana Football Association says Chelsea had the permission to use Essien in the game.
"The journalists chasing this story have sent Arsenal on a wild goose chase," the top insider told Ghanasoccernet.
"We have been approached by many journalists in the UK and the real fact is that we granted Chelsea the permission to use Essien in the game.
"We gave Chelsea a letter to this effect long time ago so they should simply stop wasting their time over this issue."
Depsite the confirmation from Chelsea, the report in the UK's Sunday Times cast doubt over the issue claiming Ghana FA vice president Fred Pappoe is not aware of Ghana permission for Chelsea to use Essien.
The report cast doubt over the said permission from the Ghana FA saying "he was unaware any permission had been granted" Chelsea.
But the FA Vice President says the context within which the report places his response to a different question asked by the Times is erroneous.
"I had a call from the guy [Times reporter] last week asking whether we [FA] were going to complain against the use of Essien by Chelsea because he had stayed away from our game.
"I made it clear to him [reporter] that I was out of the country and would not be in the position to know[decision of the FA to complain against the use of the player] so he should call later when I was back in town.
"He hasn't called me up till now. I find it improper for them to put out something within that context as a basis to doubt another argument. 
"It's so wrong to do that. I have still not got a call from the guy for the GFA's official position and on the matter they are reporting today[Sunday]," the FA Vice President told the Ghana FA website.
Essien missed the international friendly along with team mates Sulley Muntari and Asamoah Gyan. All three were fined after apologizing.