Kotoko - Hearts : An ailing rivalry?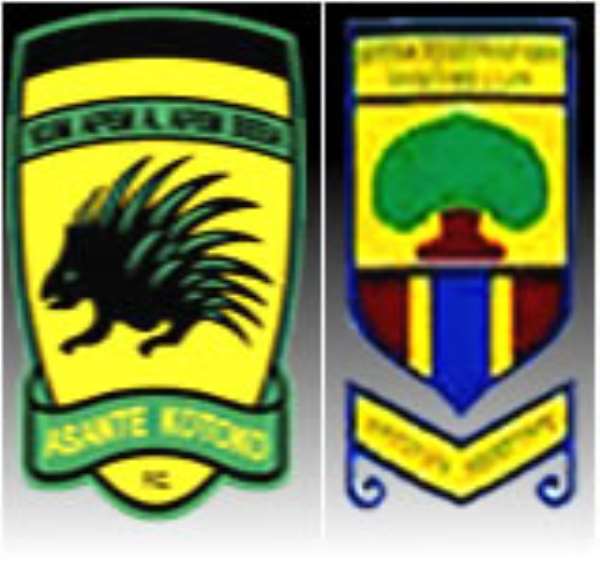 Ahead of Sunday's Glo Premier League derby between Hearts and Kotoko in Accra, Nii Ayitey Tetteh chronicles an ailing rivalry between Ghana's two glamourous clubs.
 
What was it? Was I nervy because of the environment or it was Anima? Must be the environment. Who would not be, when you are in the waiting area of an emergency room?
 
I had not seen Anima since we both left school years ago, until we met on Facebook recently. I happened to be around the Hospital where she worked and thought I could do a quick stop over.
 
Hey! Not so fast okay, it's just friendship, unadulterated friendship, nothing more, nothing less.
 
"Nii! Is that you?"Anima queried excitedly!
 
"You look great! save the receding hairline", we both laughed as we stepped into her office for a quick chitchat.
 
After broaching a number of issues, I enquired eagerly 'are you going to the stadium on Sunday to see Ghana's own El-Classico:"Hearts k Kotoko, No! She replied.
 
That was a surprise; she was one of those rare female football enthusiasts back in school who supported Hearts to the bone.
 
Well, maybe the bones are getting rotten now I surmised, or maybe she simply grew out of it.
 
It was not long before she interrupted my thoughts with a pun "the rivalry is an ailing one, it needs an urgent examination, it should be brought here (referring to the emergency unit) before it becomes just another ordinary fixture.
 
It's boring! no media hype, no star players, Please! I'd rather watch Liverpool vs. Arsenal'. Guys, I just bought myself a long debate.
 
The Symptoms
 
So Anima, what are your reasons or like you say in your language, what are the symptoms of this ailing rivalry?
 
"Now you are coming round Nii" Anima commented as she reclined in her swivel chair.
 
Okay so Nii, have you not noticed how these days, there is hardly any fun fair in the run up to these games?
 
Gone are the days when you saw both private and commercial vehicles draped in the red and rainbow colours of both clubs, touting their horns.
 
Gone are the days when supporters of both clubs engaged in fierce but healthy banter on the airwaves, in their offices, in the "trotros", and at the "chopbars."
 
Gone are the days when you were guaranteed quality entertainment by bona fide stars at the stadium.
 
Hearts fans would fondly remind you of Charles Taylor, Emmanuel Kuffour, Shamo Quaye, Ablade Kumah, Adolf Armah and Mohammed Polo.
 
Kotoko fans would also quickly point to Frank Amankwah, Frimpong Manso, Joe Debrah, Opoku Nti and Ibrahim Sunday. These days, fans would rather throng the pubs to watch the European leagues.
 
 "Nii, tell me, which players are the attractions for Sunday's fixture," I was tempted to mention that at least Charles Taylor was still around, there is Kofi Abanga, Eric Gawu Gatete at Hearts and Jordan Opoku, Alex Asamoah and even Baffour Gyan now at Kotoko but she gave me the "don't go there sign" so I kept mum and rather encouraged her to continue. 
 
The Diagnosis:
 
So Anima, what do you think the fundamental problem is? You mean my diagnosis? "Go on, you are the doctor," I urged her.
 
"Well I think it's a case of short sightedness really" Short sightedness! What has that got to do with football?
 
I expressed my surprise. "Oh, it has everything to do with it, let me break it down for you Nii"what do you expect when you elect and appoint club loyalists who have been recycled years over..
 
These appointees have their own personal interests and with little background in management hardly put in place enduring structures that would eventually yield lasting dividends.
 
They are concerned with immediate results like winning on Sunday and winning the local league only to withdraw from the African Champions League.
 
How can Hearts of Oak justify hiring 9 coaches in 4 years!?
 
How could Kotoko have signed 25 players this season (2009/2010) bringing their total squad number to an alarming 48? Surely even Jose Mourinho cannot weave football magic, can he?
 
No wonder Kotoko coach Paa kwesi Fabin is suffering. His counterpart at Hearts Ayman El-Yamany is not doing better.
 
We can hardly guess Sunday's result but you can be assured that one coach would be fired for a bad loss, and that would very much be in keeping with this short sightedness ailment. 
 
The Prescription :
 
Well Anima, what then is your prescription for this ailing rivalry? She seemed to be having fun as she adjusted herself in her chair as if she was about to make a very important speech. These were her words.
 
"Well, my prescription is two fold really; one for the long term and short term."
 
In the long term, both clubs should hire professionals who understand the dynamics of marketing and management and not part timers.
 
Both clubs have a huge fan base that can be leveraged upon to generate appreciable profits, pay human salaries to the players and also revive Auroras (Hearts youth team) and Kotoko U-20 teams to produce quality talents.
 
Then in the short term starting this Sunday December 13, 2009 at 15 Hrs GMT, both teams need to start putting up performances that can attract fans back to the stadia considering that it has been a poor 2009/2010 season for both clubs.
 
Hearts who lie 13th on the log have played 8 matches, won 3, drawn 1 and lost as many as 4 matches, poor is really an understatement.
 
Kotoko lie 11th on the log and have played 8 matches, won 2, drawn 4 and lost 2 matches. Those 2 matches were both lost in Accra to Gt. Olympics and Liberty Professional.
 
The irony of the situation is that Hearts have also lost twice this year at the Ohene Djan stadium to Kototo while Hearts have also done the double at the Baba Yara stadium.
 
Anima's train of thoughts was however interrupted with a call, it was an emergency, and she had to go to the theatre right away.
 
So we agreed to go the stadium after all to find out if Anima would be proved right or wrong.
 
I am really caught in the middle, I hope that whatever outcome, we get to have dinner afterwards, that would not be out of place, would it?
 
NII AYITEY TETTEH
Email: