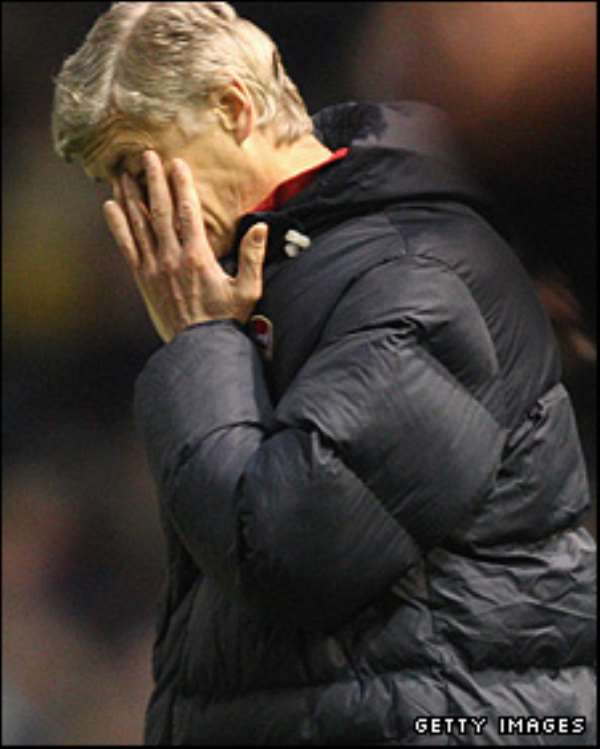 Arsenal boss Wenger was unhappy with the trashing of his side

Tony Pulis will shake Arsene Wenger by the hand at the Emirates tomorrow - but reckons the Arsenal boss needs shaking up for storming off at Manchester City.
Stoke manager Pulis said: "We all have a responsibility to football in general.
"People are so influenced by top people and what they do."
Wenger stormed off the Eastlands pitch on Wednesday without showing respect to opposite number Hughes after Arsenal's 3-0 Carling Cup loss.
But Pulis will offer his hand to the Frenchman - even if Stoke get hammered tomorrow.
Pulis insisted: "Irrespective of whether you like the man opposite you or whether you had a ruck during the game you should shake hands.
"I shake hands and I will do so at Arsenal.
"We are not just talking about the Premier League. This is something that goes right through the whole game, the lower leagues and even to Sunday football."
Pulis suffered a verbal backlash from Wenger last season after Stoke defeated Arsenal 2-1 at the Britannia Stadium.
Wenger attacked the home side's tactics after their keeper Thomas Sorensen labelled the Gunners too weak to win the title.
Bolton manager Gary Megson backed Pulis, saying: "You can do whatever you want, say whatever you like during the game but after the game you should shake hands, even if you don't particularly mean it.
"I don't think it's particularly good on Arsene's part and I think he has done it before."
Arsenal's THEO WALCOTT has suffered another injury blow.
He now has a hamstring problem and will miss the Stoke game. He is also doubtful for Wednesday's Champions League date with Olympiakos in Greece.