Who has qualified for South Africa 2010?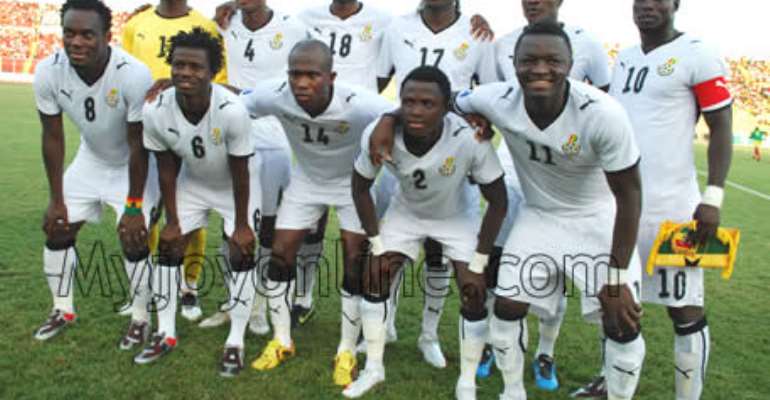 Find out who will be playing alongside hosts South Africa at the 2010 World Cup with BBC Sport's definitive guide to who has qualified and when they wrapped up their place at the finals...
URUGUAY (18 November, 2009)
Two-time world champions Uruguay clinched the 32nd and final place in South Africa with a 2-1 aggregate victory over Costa Rica. Oscar Tabarez's men will reflect on their priceless 1-0 victory in San Jose on Saturday, which meant all they needed was to avoid defeat in Montevideo on Wednesday. They took the lead through Sebastian Abreu and although Walter Centeno equalised for Costa Rica, the visitors failed to level the tie.
Uruguay coach Oscar Tabarez: "There is a lot to improve on. We'll do so and we'll have the World Cup to prove it. I'm very happy, mostly for the kids. The ones who are younger than eight-years-old have never seen this and now they can live it."
FRANCE (18 November, 2009)
Perhaps the most controversial qualification. Having finished a point behind Serbia in Group Seven the French, led by Raymond Domenech, were paired with Republic of Ireland in the play-offs. A 1-0 win in Ireland was followed by a game of huge talking points in France, with the Irish going in front through Robbie Keane and taking the tie to extra-time. France won it, but with a goal from William Gallas that came from a blatant handball from Thierry Henry.
France coach Raymond Domenech: "It was hard, laborious and indeed miraculous. I was sure we would make it though. We are happy, like the whole of France football. I knew we were going to make a 1-1 draw."
PORTUGAL (18 November, 2009)
Despite having Cristiano Ronaldo, the reigning Fifa World Player of the Year, in their ranks, Portugal made hard work of qualifying. They were languishing in fourth in Group One at one stage before a late rally earned them second and a play-off berth. Without the injured Ronaldo they secured a place in South Africa thanks to two hard-fought 1-0 victories over Bosnia-Hercegovina.
Portugal coach Carlos Queiroz: "Bosnia are a good team but Portugal are too strong for them because we have an explosive combination of confidence, desire and determination. I must congratulate my team for a spirited performance, while Bosnia will have gained respect after getting this far and proving to be stiff opponents."
SLOVENIA (18 November, 2009)
Matjaz Kek's side reached their second World Cup finals thanks to a surprise play-off defeat of much-fancied Russia, having finished second in Group Three behind Slovakia. A late reply left them trailing 2-1 after the first leg in Moscow and Zlatko Dedic's goal in Maribor proved enough to earn a victory on the away goals rule.
Slovenia coach Matjaz Kek: "They are men of merit for continuing the Slovenian football fairytale. They have become immortal. We were better from the first minute of the game and we earned the right to go to South Africa."
GREECE (18 November, 2009)
Euro 2004 champions Greece qualified for their first World Cup since 1994 thanks to veteran German coach Otto Rehhagel, who masterminded their success in Portugal. Having finished second in Group Two behind Switzerland they met Ukraine in a two-legged play-off and won 1-0 in Donetsk after a 0-0 draw in Athens, with Dimitrios Salpigidis getting the winner.
Greece coach Otto Rehhagel: "I'm proud of my players. They put all of their heart and soul into today's match. It was really tough to contain Ukraine's attacks throughout the match but we did our best and luckily we managed to do it and achieve the desired result."
ALGERIA (18 November, 2009)
They did it the hard way, the Algerians, after being forced to go to a one-off play by Egypt when they lost 2-0 in Cairo in the final group game as the two sides finished neck-and-neck at the top of Group C. They came through the contest at a neutral venue in the Sudanese capital Khartoum thanks to defender Antar Yahia magnificent first-half volley that crashed in off the crossbar.
Algeria coach Rabah Saadane: "They played with heart - they had so much heart and I think that's what made the difference. I think we will have time to prepare ourselves for the Cup in Africa now."
CAMEROON (14 November, 2009)
Cameroon avoided drama on the last day of qualification as their 2-0 win in Morocco rendered Gabon's result in Togo meaningless. Goals from Achille Webo and Samuel Eto'o sent the Indomitable Lions to the World Cup for the sixth time - a new African record. Cameroon were bottom of their group after two games, before Paul Le Guen took over as manager from Otto Pfister.
Cameroon coach Paul Le Guen: "The key has been the talent of the players. We didn't undergo a dramatic change of personnel but I wanted to change the team dynamic. I wanted them to want to come and play for the national team and I sought to give them the best conditions possible."
NIGERIA (14 November, 2009)
Nigeria qualified in dramatic fashion with a 3-2 win against Kenya in Nairobi. The Super Eagles had to win to have any chance of denying Tunisia. They fought back from 1-0 down to lead 2-1, but conceded a 79th-minute equaliser, only for Obafemi Martins to seal an emotional win.
Nigeria coach Amodu Shaibu: "This is a typical Nigerian side which you can never rule out when it is faced with adversity. It's fantastic. Now we have to go back home and map out the preparations."
NEW ZEALAND (14 November, 2009)
The Kiwis sealed a berth at only their second World Cup finals with a 1-0 aggregate play-off victory over Bahrain, winning the second game in Wellington in front of a New Zealand record football crowd of 35,100 thanks to Rory Fallon's header just before half-time.
New Zealand coach Rickie Herbert: "We've all worked hard, we all backed the system that we truly believe was good enough to win it and they've gone and done it. Tonight is about these boys, about a group who believed and have never stopped believing, and their dream continues which is fantastic."
HONDURAS (14 October, 2009)
A 1-0 victory over El Salvador and a crucial last-minute goal by the United States against Costa Rica clinched Honduras' place in South Africa next year. It is only the second time they have qualified for the finals, the other being in 1982 - and it has all happened while Honduras has been in turmoil following a military coup in June.
Honduras coach Reinaldo Rueda: "Today it's the Honduras fans' and their team's turn to celebrate, thanks to the work of many years. Now we have months of work, months of matches and let's hope this victory works out for the good of all."
ARGENTINA (14 October, 2009)
After a troubled qualifying campaign, Diego Maradona's side came good in their crunch match in Uruguay, with Mario Bolatti's late goal securing the 1-0 win which secured their place at South Africa. Argentina had only failed to qualify for a World Cup once in their history - in 1970 - but their win secured the fourth and final qualifying spot in the South America group.
Argentina coach Diego Maradona: "I would like to thank the team for giving me the privilege to lead Argentina to World Cup. Thank you to the Argentine people who had faith. This is for those who did not believe in the national team and treated me like dirt - they will now have to accept this."
SLOVAKIA (14 October, 2009)
Slovakia qualified for their first World Cup finals after beating Poland 1-0 to finish top of Group Three thanks to a third-minute own goal by Seweryn Gancarczyk and some key saves from Jan Mucha.
Slovakia coach Vladimir Weiss: "We played well in these qualifiers, we were lucky today but we've also put a lot of heart into the game. People deserved this and I'm glad that we made Slovaks happy."
SWITZERLAND (14 October, 2009)
Switzerland got the point they needed to qualify in their final match against Israel but not without a struggle - Ottmar Hitzfeld's side were hanging on even after their hosts had Avihay Yadin sent off after 59 minutes. The Swiss went on an eight-match unbeaten run after a surprise defeat by Luxembourg to reach the finals.
Switzerland coach Ottmar Hitzfeld: "The goal was to qualify and we made it - the goal is achieved. Compliments to the whole team and to each and every player. It's another success for me and a dream being fulfilled, it's a present that Switzerland has given me."
UNITED STATES (11 October, 2009)
The US had to work hard to seal qualification with a 3-2 win over Honduras, but Bob Bradley's side did enjoy the luxury of having a game to spare.
United States coach Bob Bradley: "We're very proud. We understand the responsibility we have every time we step on the field for our fans, for our country."
MEXICO (11 October, 2009)
Mexico made sure of their 14th appearance at the finals with a game to spare after a comprehensive 4-1 victory over El Salvador - despite a swarm of bees in the goalmouth halting play for 10 minutes. Javier Aguirre's side won six of their nine games to seize the initiative in the group after the job had been started under previous coach Sven-Goran Eriksson.
Mexico captain Rafa Marquez: "This is a great team and Javier Aguirre is a great coach. We worked hard and got the job done, the credit goes to all to my teammates and to the coach. They are all amazing."
CHILE (11 October, 2009)
Chile reached South Africa courtesy of a 4-2 victory over Colombia, and they were indebted to substitute Jorge Valdivia who scored one goal and created the other three. It is Chile's first appearance at the World Cup finals since 1998.
Chile captain Claudio Bravo: "It was our mission to change the face of Chilean football. It was an exceptional campaign, based on discipline, consistency, confidence and belief. But this isn't the summit, we can achieve great things and will work to do so."
ITALY (10 October, 2009)
Italy sealed the chance to defend their world title in South Africa in dramatic fashion, equalising in the last minute in Ireland to snatch a 2-2 draw and top spot in Group Eight. Mauro Camoranesi cancelled out Glenn Whelan's opener for Ireland, but Sean St Ledger's goal looked to be taking the group to the final round of matches until Alberto Gilardino's decisive late goal.
Italy striker Alberto Gilardino: "The game was tight until the end. And qualifying for the World Cup, this is even more beautiful. We deserved the draw. When they scored to make it 2-1, we were not attentive. Thank goodness we equalised."
SERBIA (10 October, 2009)
Serbia beat Romania 5-0 in Belgrade to earn automatic qualification for the 2010 World Cup as unassailable leaders of European qualifying Group Seven. Nikola Zigic gave the Serbs a half time lead before they hammered home their superiority after the break through goals from Marko Pantelic, Zdravko Kuzmanovic and a Milan Javanovic double.
Serbia coach Radomir Antic: "I'm extremely happy, as we sealed a World Cup spot in style. If we continue like this in South Africa, we will be a power to reckon with at the World Cup."
DENMARK (10 October, 2009)
Denmark reached their first major tournament since the 2004 European Championship courtesy of a 1-0 win over Sweden in Copenhagen. Midfielder Jakob Poulsen's low, long-range strike in the 79th minute was enough to see off second-placed Sweden and ensure the Danes progression with one round of games remaining in Group One.
Denmark coach Morten Olsen: "We played a better game so our win was well deserved. All the players who have been on the team have been fantastic."
GERMANY (10 October, 2009)
Germany have not missed a World Cup finals since 1950 and that record was extended as they booked their place with a 1-0 win away to their group rivals Russia. Miroslav Klose's 35th-minute strike clinched the win and saw Germany, who played the last 22 minutes with 10 men after Jerome Boateng was sent off, win the group with one round of matches remaining.
Germany coach Joachim Loew: "We said from the start that we wanted to play for a win here, and so go forward. Of course we had a bit of luck in some situations, one has to say that."
IVORY COAST (10 October, 2009)
Ivory Coast drew 1-1 with Malawi in Blantyre to become the second African side to reach the 2010 World Cup in South Africa from the qualifiers. Chelsea's Didier Drogba came on as a substitute to score the crucial equalising goal for the visitors after Jacob Ngwira's opener. The Ivorians, who have 13 points from five matches, have an unassailable lead at the top of qualifying Group E.
Ivory Coast striker Didier Drogba: "I am very happy indeed because Ivory Coast is going to the World Cup for the second time."
PARAGUAY (9 September, 2009)
Paraguay secured their place at a fourth-straight World Cup finals with two games to spare after a 1-0 win over Argentina. Nelson Valdez's goal earned his side victory over Diego Maradona's struggling outfit in the South American qualifying group as Paraguay joined Brazil in qualifying for South Africa in 2010.
Paraguay coach Gerardo Martino: "In the national team, you work for two possibilities - you can work for having a job or for making history. I want to work for the second option."
SPAIN (9 September, 2009)
Spain matched the feats of England and Netherlands, qualifying for the 2010 World Cup with two qualifying group matches to spare thanks to a workmanlike 3-0 defeat of Estonia in Merida. Cesc Fabregas, Santi Cazorla and Juan Mata got the goals to make it eight straight wins for the European champions, with Bosnia-Herzegovina's 1-1 draw with Turkey ensuring their smooth progress to the finals for the ninth straight time.
Spain midfielder Cesc Fabregas: "This goal is very important for me, especially for the confidence it gives me. It's a pleasure to play with these players and in front of these fans. Eight wins out of eight, not many countries can say that."
ENGLAND (9 September, 2009)
England swept into the finals with a 5-1 rout of Croatia, their eighth victory in eight Group Six matches, as Fabio Capello's side ensured their progress to the finals with two matches to spare. Frank Lampard and Steven Gerrard each bagged a brace, with Wayne Rooney adding a fifth, as the Wembley crowd were treated to a superb home win that went some way to making up for Croatia stopping England from qualifying for Euro 2008 under Steve McLaren.
England captain John Terry: "When we play like that, pressing and working the ball, we're a difficult opposition for any side. Don't forget, it's taken a year for us to get this good, and we've got a way to go to get to where we ultimately want to be. But we're on track."
GHANA (6 September, 2009)
Ghana defeated Sudan 2-0 in Accra to become the first African side to reach the 2010 World Cup in South Africa from the qualifiers. Inter Milan's Sulley Muntari and Chelsea's Michael Essien scored the goals in each half to give Ghana an unassailable lead at the top of qualifying Group D.
Ghana midfielder Michael Essien: "The people of Ghana wanted us to win and we did not let them down. What a fantastic feeling to be the first African country to qualify for the first World Cup to be staged in Africa."
BRAZIL (6 September, 2009)
Brazil are the only team to have appeared in every World Cup finals and they made sure that record would continue in the best possible fashion, beating their bitter rivals Argentina 3-1 on their home turf. Two goals from striker Luis Fabiano and another from defender Luisao was enough as they inflicted only the second home defeat in World Cup qualifiers on Diego Maradona's struggling side.
Brazil coach Dunga: "We're happy. We beat a great team with great champions. Lionel Messi might be the best player in the world. We beat Argentina, which had not lost a match at home in qualifying."
NORTH KOREA (17 June, 2009)
Iran's failure to defeat South Korea in Seoul earlier in the day meant North Korea only needed to draw in their final group match against Saudi Arabia in Riyadh. They did exactly that, with a 0-0 result, putting them into their first World Cup finals since 1966. Back then, they were memorably beaten 5-3 in the quarter-finals by Portugal - despite taking a 3-0 lead.
North Korea coach Kim Jong-Hun: "It was so hot in Saudi Arabia and as you know the journey from Korea was long, but our belief in the ability of the players snatched the ticket to South Africa."
THE NETHERLANDS (6 June, 2009)
The Dutch won 2-1 away to Iceland to become the first European side to qualify for next summer's tournament. Goals from Nigel de Jong and Mark van Bommel put Bert van Marwijk's team in the driving seat before Kristjan Orn Sigurdsson pulled a goal back.
Netherlands coach Bert van Marwijk: "My goal was to qualify for the finals so now we have a year to prepare. Winning six straight World Cup qualifiers deserves a compliment."
SOUTH KOREA (6 June, 2009)
The South Koreans secured a seventh successive World Cup finals place thanks to a 2-0 victory over United Arab Emirates in Dubai. Park Chu-young and Ki Sung-yueng grabbed the goals as Huh Jung-Moo's outfit strolled to a place in Africa's first World Cup.
South Korea coach Huh Jung-Moo: "I'm really happy that we made it. We are all satisfied with a performance that saw us ensure a place in South Africa. The players were excellent throughout the qualifiers, they did a great job."
AUSTRALIA (6 June, 2009)
The Socceroos eased into the World Cup without so much as even conceding a goal in the six matches it took them to qualify. A 0-0 draw against Qatar in Doha wrapped things up for Pim Verbeek's team after they picked up 14 points in Group A of the final Asian qualifying phase.
Australia coach Pim Verbeek: "The World Cup is a great, great event and I'm already looking forward to going there. We have to go and do it better than last time."
JAPAN (6 June, 2009)
Takeshi Okada's Japan became the first team to book their place after earning a hard-fought 1-0 victory against Uzbekistan in Tashkent. Shunji Okazaki grabbed the only goal of the game after nine minutes to book a fourth successive finals berth.
Japan coach Takeshi Okada: "We played very well. I think we should continue playing this style in the remaining matches."
FULL LIST OF TEAMS AT 2010 WORLD CUP
HOSTS: South Africa
AFRICA QUALIFYING: Algeria, Cameroon, Ghana, Ivory Coast, Nigeria
ASIA QUALIFYING: Australia, Japan, North Korea, South Korea
EUROPE QUALIFYING: Denmark, England, France, Germany, Greece, Italy, Netherlands, Portugal, Serbia, Slovakia, Slovenia, Spain, Switzerland
SOUTH AMERICA QUALIFYING: Argentina, Brazil, Chile, Paraguay, Uruguay
NORTH, CENTRAL AMERICA AND QUALIFYING: Honduras, Mexico, United States
ASIA/OCEANIA PLAY-OFF New Zealand