Ghana await 2010 CAN draw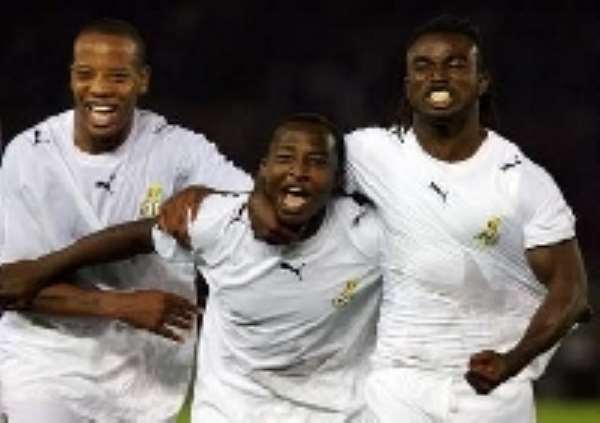 Ghana after missing out of a seeding slot will discover Friday who they face at the 2010 African Nations Cup in Angola from Pot 2.
Already representatives from the 16 qualifiers for the January 10-31 tournament are in Luanda to oversee the split into four groups from which the winners and runners-up advance to the quarter-finals.
In attendance for the draw would be Caf President Issa Hayatou and Angolan President Jose Eduardo Dos Santos with Ghana represented by FA President, Kwesi Nyantakyi.
According to CAF, the seedings are based on performance criteria from the last three African Cup of Nations competitions as laid down in the regulations.
Ghana will know which group it lands when the draw is completed at the Talatona Convention Centre in Luanda.
The Black Stars, four-time winners and bronze medalist at the last CAN are joined by Tunisia, Mali are Nigeria in Pot 2.
However, the seeded sides in Pot 1 are defending champions Egypt, Cameroon and Ivory Coast along with hosts nation, Angola.
Pot 3 includes Zambia, Benin, Algeria and Togo with Burkina Faso, Mozambique, Gabon and Malawi filling Pot 4.
Angola, as host, will occupy the top position in Group A and will be based in Luanda. Egypt as the defending champions will be Group C top seeds and will be based in Benguela.
Cameroon and Ivory Coast, the remaining seeded teams, are placed in Group B (Cabinda) and Group D (Huila) respectively.
The 15 teams who have qualified to play in Angola are Algeria, Benin, Burkina Faso, Cameroon, defending champions Egypt, Gabon, Ghana, Ivory Coast, Malawi, Mali, Mozambique, Nigeria, Togo, Tunisia and Zambia.
The 32-fixture tournament will be played at four new Chinese-built stadiums in Luanda, Benguela, Cabinda and Lubango.