Diego Maradona banned from football for two months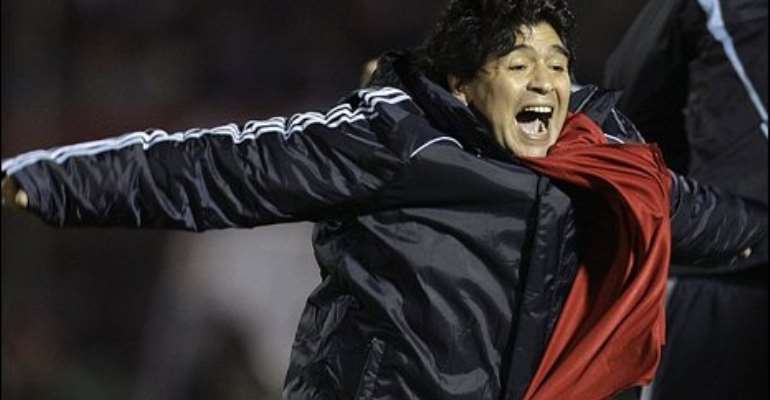 Argentina coach Diego Maradona has been banned from all football related activity for two months and fined 25,000 Swiss francs for his post-match rant following the World Cup qualifier against Uruguay last month.
Los Albicelestes secured automatic qualification for the 2010 World Cup finals in South Africa in the summer after defeating Uruguay 1-0 in October. The team had struggled in the qualifiers and Maradona had received much flak for his side's below-par performances.
After that win, the former World Cup winner explicitly taunted his critics and journalists and said in the post-match press conference: "They can suck it and carry on sucking it. This is for all Argentines, minus the journalists.
"I want to thank my players for qualifying because they played like men and today they consecrated me as a coach. I also want to dedicate this to the whole of Argentina, to my family too, but there is one group who do not deserve this because they have treated me like rubbish.
"I don't usually read the newspapers or listen to sports programmes but my daughters do and they told me what had been said about me. So, I repeat, to all those that said anything against me, keep eating your words."
These comments forced world football's governing body to investigate Maradona's actions, and they have now released a statement declaring that the Argentine national team coach has been banned "from all football related activity" for two months from November 15 to January 15 of next year.
"The committee reached this decision following a three-hour meeting at the Home of FIFA in Zurich," a statement from FIFA read.
"The head coach of Argentina was heard by the committee during 40 minutes and apologised to FIFA and the world football family.
"The committee took into consideration the apologies and the sincere remorse shown by Maradona in its decision, which was communicated to him at the end of the meeting.
"The sanction, which was taken on the basis of article 57 of the FIFA Disciplinary Code, applies from 15 November 2009 to 15 January 2010.
"The committee stressed that any breach of this decision or any repetition of a similar incident would mean that stronger sanctions would have to be imposed in the future."
Maradona was in person in Zurich on Sunday to receive his punishment. He flew there from Spain, where he had watched his Argentine side suffer a 2-1 defeat at the hands of the reigning European champions on Saturday night.
The bright side of the punishment for the 49-year-old is that he will be available for the World Cup finals in South Africa in the summer.