GFA rebuffs Liberty graft claims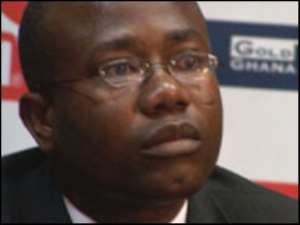 Nyantakyi says Liberty are in Wafu on merit Kwasi Nyantakyi has angrily rebuffed claims that there was favouritism in the selection of Liberty Professionals to represent Ghana in a sub-regional competition.
The Ghana Football Association (GFA)'s selection of Liberty for   the re-organised West African Football Union (WAFU) Club Championship prompted angry protests among some club owners.
 
The fact that Liberty barely escaped relegation this season sparked the suspicion with Alhaji Abdul Karim Grunsah, the owner of King Faisal, calling for an investigation into the issue citing corruption.
 
But GFA boss Nyantakyi insists Liberty were chosen on merit as they finished fifth last season but the tournament was postponed which resulted in its late start.
 
"This is a complete storm in a teacup. Liberty were chosen a long time ago because they were fifth in the league last season," Nyantakyi said.
 
"The tournament was delayed so they didn't start early. The first four teams last season played in the Champions League and Confederation Cup so the fifth goes to Wafu.
 
"So as it is, the team that finished fifth this season will represent the country in Wafu next season.
 
"These people crying foul have an agenda to make us look bad but they will not succeed as the people of Ghana can see through these things."
 
A 19-man Liberty squad left Accra on Thursday for Lagos to play in Wafu Club Championships first leg of the preliminary round against Sunshine FC on Nigeria.
The Dansoman side housed in Zone B is the nation's representatives at this year's edition and though Liberty have endured a tough season they were chosen.
 
They remain will also play Sahel FC of Niger.