Kingston warned over fitness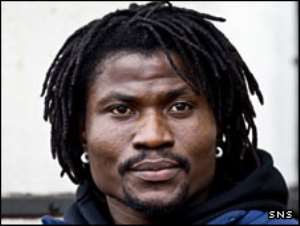 Kingston suffered injuries last term Scottish side Hearts' coach CSABA LASZLO has told Laryea Kingston he must spend less time on the treatment table and more time on the pitch if he wants to earn a bumper new deal at Hearts.
Kingston, 28, has entered the final season of his three-year contract at Jambos but, despite showing flashes of real genius, his Tynecastle career has been blighted by injury.
The Ghanaian made just 21 appearances last term and 20 the year before thanks to a series of niggles and strains.
 
And while Kingston, 28, spoke of his desire to captain Hearts earlier this week, boss Laszlo has warned the midfielder fitness comes first.
 
Laszlo - whose side take on Southampton in a friendly at St Mary's on Saturday - said: "Laryea is at the most important stage of his career. He's coming to his peak and his contract is due to run out next summer.
 
"The normal rule in that situation is that if you want a new contract or you want a better one at another club then you must produce. You must be fit and you must perform at your highest level.
 
"Any scout who comes to watch our games will only be impressed by Laryea if he's fit and producing the sort of football he's capable of.
 
"Ability-wise he is one of the best footballers in the SPL but that is when he is fit and his body is ready for 90 minutes.
 
"He has to work hard on this side of his game and hearing this won't be news to him. I have already spoken many times to him about his fitness.
 
"This club has had too many problems with injuries to players in the past. Sometimes there has been bad luck but it all has to change.
 
"Now if the club buys players it is our intention to buy players for the team, not to sign new players for the doctor.
 
"We can't have players who spend more time in the treatment table than playing football. It's not good enough to take the club forward.
 
"I want to see all my players getting fit. Christian Nade has had an operation in pre-season and we now have three weeks to get him in shape. It's very important we do this.
 
"It's also important we do the same with Laryea because if it is the old Kingston we get this season we will have a fantastic footballer at our club."
 
Kingston's desire to lead the team stems from Laszlo's insistence that there is a three-way fight to take over from Robbie Neilson.
 
Michael Stewart and Marius Zaliukas are also in the frame, with Stewart in pole position to skipper his boyhood heroes.
 
But Laszlo added: "At the moment we are looking to find the best solution with regards to the captaincy.
 
"We have Kingston, Stewart and Zaliukas and all three have the personality, age and knowledge of the club to do the job.
 
"All three of them also have a close relationship with the fans.
 
"It's important for us not just to have one player who wears the captain's armband but for these three players to keep the team together in the dressing room."