Samuel Eto'o to sign Inter contract on Monday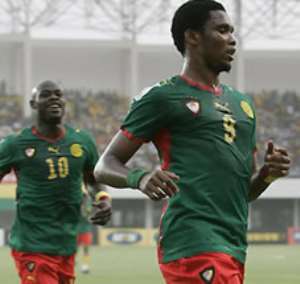 Samuel Eto'o in his favorite number 9 Cameroonian jersey

Inter will present Samuel Eto'o with his mega contract on Monday following the latest talks held in Milan today.
The Nerazzurri added the finishing touches to Eto'o's five year deal during a two hour meeting this morning.
Sporting director Marco Branca, director Lele Oriali and finance chief Rinaldo Ghelfi thrashed out the final agreement with Eto'o's agent Josep Maria Mesalles.
The Cameroon international will earn €10.5million per season plus bonuses related to Inter's success next term. The move will see him pocket an extra €500,000 compared to his reported €10m demands.
Sky Sport Italia claim the Nerazzurri and Mesalles are delighted with the outcome of today's talks but the quartet did not give any interviews as they left the club's Milanese headquarters.
Mesalles is now expected to fly back to Barcelona to tie up a few outstanding details with the Spanish club this weekend. Following this, Eto'o will travel to Milan on Monday in order to have his medical and sign for the champions.
Update 15:06 CET: Mesalles has now confirmed the deal has been agreed and Eto'o will arrive as reported earlier.
"We are happy and satisfied with the negotiations and our negotiations with Inter are finished," Mesalles told the press.
"The player is happy with the outcome. The only problem is with Barcelona.
"The player may arrive on Monday or Tuesday to work with Inter. It's not official yet, but the agreement with Inter has been made. It's a five year deal with Inter."