Australia plead to Ghana FA over Danning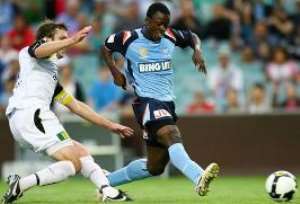 Kofi Danning in in top shape Australia football authorities are praying that the Ghana Football Association will not ask Fifa to prevent them from using a Ghanaian rising star striker Kofi Danning.
  Samples of a holding letter, an offer to non-priority creditors and a no offer letter. boddyb Debt, Holding letter, No offer letter, Non-priority creditors, Sample letters 11.9999
Sydney FC's Danning faces a race against time to play for Australia at the under-20s World Cup in Egypt in September, with Football Federation Australia sweating on the outcome of an appeal to FIFA regarding his eligibility.
 
A recent change to the governing body's rules means Danning, who was born in Ghana and arrived in Australia as a seven-year-old, is unable to represent his adopted nation in any major international tournament until he has spent five years here after the age of 18.
 
As he has no parents or grandparents born in Australia, he can only represent Ghana if his case is not granted an exemption, even though he has already played for the young Socceroos in friendly matches.
 
As it stands, Danning will have to wait until he turns 23 to play for Australia, at which point he would be too old to play for any of the nation's underage teams.
 
However, the 18-year-old will be selected in the under-20 training camp in Argentina, set to be announced today, which suggests the FFA still holds out hope that Danning will be granted an exemption for the tournament.
 
"We've submitted all the paperwork to FIFA some time ago and we're confident we were able to answer all the questions and criteria fully as to why Kofi should be granted an exemption to play for Australia," FFA high-performance manager John Boultbee told the Herald .
 
"It's a long process and we understand why FIFA has changed the regulations, but it probably needs to be a a little more streamlined.
 
"Australia has a history of taking in immigrants and refugees so it's a problem we can see coming up frequently if something isn't done."
 
Danning has won the hearts of Sky Blues fans with his daring style and Luna Park-sized smile, all of which point to him having a big future in the game.
 
However, while the FFA is "hopeful" the judge looking over the case will rule favourably, several over nations have been forced to lodge similar applications, causing a worrying delay.
 
"The problem as far as we can see is that FIFA have a major backlog of these sorts of applications from all over the world," Boultbee said. "We're certainly not the only country to be facing this problem."
 
The FIFA ruling kicked in from May last year, although many of Australia's under-17 squad at the time - of whom seven players born overseas - managed to play a qualification or tournament match for the national underage team before the cut-off date.
 
Only Perth's Julius Davies, 16, who arrived as a refugee from Liberia in 2004, has had his application rejected by FIFA.
 
However, should he come into contention for future teams, the FFA will appeal again on his behalf.
 
Danning is not the only prospective member of Jan Versleijen's World Cup squad to face such a challenge.
 
Young goalkeeper Alex Cisak and midfielder Luke Bratten, born in Poland and England respectively, also await FIFA rulings.
 
"We'd prefer an answer soon, and we'll be asking FIFA to prioritise the applications of those boys who are in line to go to the under-20 World Cup," Boultbee said.
 
"The deadline for lodging the squads should be in late August so we'll need a definite answer before then."