Feature: Opare must be given Real chance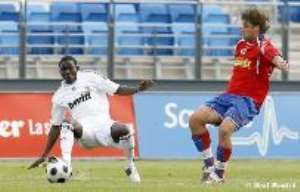 Daniel Opare is hugely talented Since joining the club in the beginning of 2008 for an estimated fee of €1.5 million, 18 year old wonder-kid Daniel Opare has been struggling with injuries and has only played for Castilla - a junior team of Real Madrid.
 
Real beat several top players for the signature of former Ashanti Gold SC defender when he gained recognition at 2007 FIFA Under-17 World Cup while playing for Ghanaian national soccer team.
Primarily a right back, with added ability to play right wingback, he possesses strong pace and physique with penetrating crosses. He trained under former Real Madrid coach Juande Ramos with the senior team but did not get a playing spot.
Ghanians are apprehensive of his getting promoted to the senior team, as many players like Sergio Ramos, Miguel Torres and Michel Salgado and other defenders capable of playing right back are available for the same position.
Perhaps if an injury crisis develops in the defense or as a backup player (should some right backs leave) he may get his chance otherwise his prospects of making it are very slim right now. If Salgado and Metzelder depart then it will also help his cause.
Despite overwhelming odds against his chances, he is determined to give his best to try and get a place on the team while faithful Madridistas hope that another canterano will not slip through their fingers.
Best solution for both parties involved will be to loan out Opare to another La Liga club so he may get first team experience elsewhere and then come back to Real ready for high-pressure action.
It is about time that Real Madrid focuses its attention on giving promising canteranos playing opportunities; otherwise, what is the point of having such an elaborate La Fabrica.