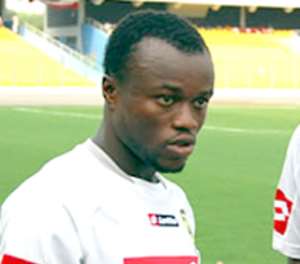 Alex Asamoah
KUMASI Asante Kotoko is to embark on an European training tour ahead of next season, according to some sources of DAILY GUIDE SPORTS.
The training tour is aimed at fine-tuning every department of the Kotoko team, which will make them a strong force to reckon with, ahead of next season.
A source revealed that the Kotoko management is certain of the training tour but was now faced with the problem of choosing the exact country to travel to.
So far, United Kingdom (UK) and Spain, appears to be in the lead of the countries that Kotoko is likely to choose.
The source disclosed that Kotoko's management discussed the issue at its last meeting, last Tuesday, but failed to settle on a particular country.
The team previously undertook a training tour in Germany, in 2007, which led to the successful triumph in their subsequent showing of the League, the following year, when they were coached by Bashiru Hayford.
From I.F. Joe Awuah Jnr., Kumasi