Appiah weighs his options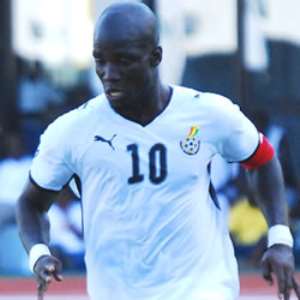 Another busy transfer window and another frustrating club hunt for Stephen Appiah as the Ghana international weighs his options.
The Ghana captain is one of many players who is expected to find a club before the window comes to a close in August.
But after seeing a deal with Italy's AC Milan fall through in January, the midfielder is desirous to find a job before the new season begins with a World Cup coming next year.
"When you don't have a job, you have to look for one. Right now, I am looking for one.
"But now, there are a couple of teams and I would see what happens," an optimistic Appiah said.
Stephen Appiah, in a recent interview on national TV confirmed that a conflicting medical report spurred his chance to play for Russia's Rubin Kazan.
The midfielder stated that Rubin Kazan asked him to do a test in Munich but the outcome revealed a 40% loss of muscle.
"Ofcourse I had played (for Ghana) against Egypt so I could have lost some muscle. But further test in Italy wasn't more than 10%. So that was shocking. I was asking myself, what was happening."
Soon after that move collapsed, Appiah returned to train with Brescia and was called up by AC Milan's managing director, Adriano Galliani.
But his close move to AC Milan was called off because he didn't hold an Italian passport and could not even be registered by Milan as an EU player. Italian teams are limited in the amount of players they can sign from outside the European Union.
"When (Genaro) Gattuso got injured, Galliani (AC Milan managing director) called me and asked where I was and I said I was in Brescia. So someone was sent over to check up on me. Training was good and everything was fine.
"I went Milano and sat down with them but the problem is I still don't have an Italian passport so I can go to AC Milan. In January, I was supposed to sign a contract with them but it didn't happen because of my passport problem and that deal fell through," Appiah said on national network, GTV.