Female Hockey team redeems Ghana's image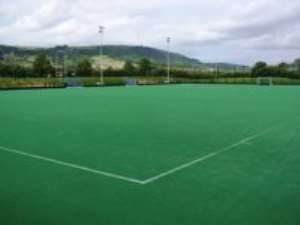 Accra, July 12, GNA – Ghana's female Hockey team, the Black Sticks on
Saturday redeemed the nation's image when they chalked a 3-0 win over their
Egyptian counterparts in the opening match of the female category of the
ongoing 2009 Africa Hockey Cup for Nations at the National Hockey Stadium
in Accra.
The victory was a face saving one for host nation, Ghana after the male team
suffered a humiliating 8-0 defeat at the hands of South Africa on Friday.
The female team, which now carries the nation's hope of the 'Host and
Win', opened the scores in the 8th minute through Beatrice Darko from a
penalty corner.
Exhibiting a shadow of their male counterparts as showed in the opening
game, the Egyptians struggled to level up but had to face stiff opposition from
the Ghanaian Ladies.
Georgina Sam increased the tally for Ghana in the 30th minute of the first half
from another penalty shot to end the first half on a brighter note.
The second half saw both sides playing under low tempo with little efforts at
finding a goal, with the Egyptians keen on fetching a consolation with the likes
of Sayed Sarah and Noura Mahmoud failing to break the back line of Ghana.
The Black Sticks, despite pilling pressure on the Egyptians could not utilize
some of the few chances that came their way.
A last minute effort however fetched the Black Sticks their third and final
goal also from a short penalty corner converted by Pamela Condobrey.
The Egyptians from then responded with a last minute effort and were
rewarded with a penalty corner but the effort was wasted to deny them a
consolation goal.
GNA