Agent: Muntari won't leave Inter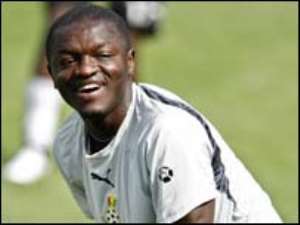 Muntari will stay at Inter Milan next term Ghana midfielder Sulley Muntari will stay with Italian champions Inter Milan for at least another season, his agent has revealed.
  The Inter midfielder http://www.goal.com/en/people/ghana/565/sulley-ali-muntari 's place in the starting XI next season is in jeopardy due to the arrival of Thiago Motta and the former Udinese man has been linked with http://www.goal.com/en/teams/england/105/tottenham-hotspur-news Tottenham http://www.goal.com/en/teams/italy/2/internazionale-news .
However, his agent, Frank Schreier, says that the Spurs have not done anything concrete to acquire the 2006 World Cup participant.
"For now, Tottenham has only inquired about him, but nothing more," he revealed in an interview with Tuttomercatoweb .
"Would he like a return to England? Obviously, playing in the Premier League pleased everyone, but at the moment the player is doing well with Inter and if there are no setbacks he will stay in Milan."
The Ghana international's efforts last season helped Inter to the Scudetto, as he made 27 appearances and scored four goals, including the winning goal in a 1-0 win over rivals Juventus.
He moved to the Nerazzurri last summer from Portsmouth http://goal.com/en/news/10/italy/2009/07/08/1371391/tottenham-have-not-bid-for-inter-midfielder-muntari-agent , for approximately €15 million.