Odartey reveals: "I was cursed"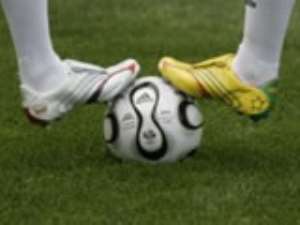 Ex-international Nii Odartey Lamptey has told an England-based football magazine Four-Four-Two his inability to live up to expectations as one of the greatest footballers was as a result of a spell (black magic) cast on him by his local nursery club.
Lamptey claims Kaloum Stars hired witch doctors to punish him for deserting them to Europe after raising the roof at the 1989 Fifa World Under-16 Championship in Scotland.

He sneaked out of the country and signed a five-year contract with Belgian side Anderlecht in 1991.
A dodgy transfer he believes he paid for since his local club never profited from that move: "I was vomiting blood on the pitch," Lamptey told Four- Four-Two.
"There was a big problem in Ghana," he says. The GFA and Kaloum Stars were furious to have lost a great hope.
"They nearly arrested my father because they thought he knew where I was."
Then 14, he impressed in the opening match between Ghana and Scotland in a goalless draw.
He was handed the man-of-the-match award by the renowned Pele who said the youngster was the closet he had seen like himself.
It was at the tournament he met Nigeria international Stephen Keshi who then played for Anderlecht.
Keshi gave him a card bearing the details of an agent in Lagos and told him if he got in touch he would arrange a move to Europe.
"I did not tell anybody, even my parents, and I took the small amount of money I had and went to the bus station and met a car driver who was going to Nigeria," he said.
"I told him, This is the situation: "I don't have a passport but I want to go to Lagos." He said if I could pay he'd take me and I could pretend I was his son."

Now 34, Lamptey partners former Black Stars team mate CK Akunnor as assistant coach at Premier League side Sekondi Eleven Wise.