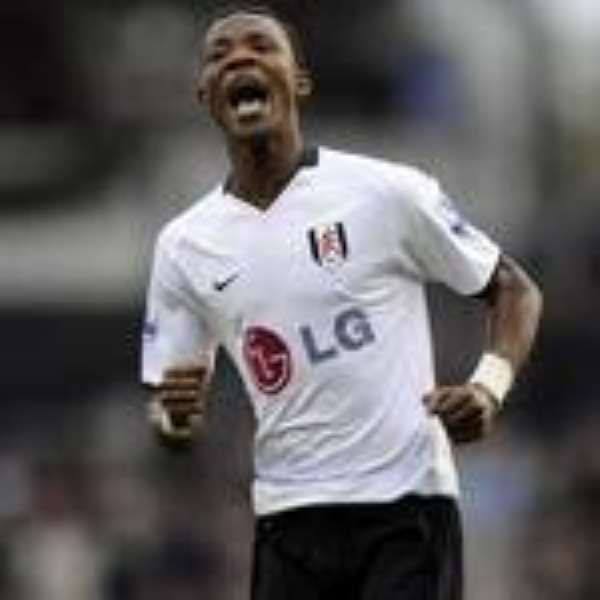 Pantsil has been key this season Ghana  defender John Pantsil has proven to be one of the most instrumental players who helped to send Fulham to  Europe  this season.
 
 
The English side finished seventhin the Premier League which ended on Sunday despite a 2-0 loss to Everton onthe final day.
 
The defender has played all butone of the 38 matches of the league season and missed the single game becauseof suspension.
 
Panstil, who suffered lack ofplaying time at rivals West Ham, joined Fulham at the start of the season andhas won the hearts of the fans because of his commitment to the club
 
He played constantly as the rightwing back for the club and made the club's defence one of the feared thisseason.
 
After surviving on the last day inseason 2007/08, the Cottagers made great inroads this season.
 
Meanwhile, Fulham manager RoyHodgson has rated qualifying for next season's inaugural Europa league as oneof his greatest managerial achievements.
 
Hodgson said although he doesn'tlike rating his achievements, this one is right up there.
 
"I said to the players afterthe game that I've had a long career and I've been very lucky," saidHodgson.
 
"Quite a few honours havecome my way but as far as I'm concerned, the work these guys have done for methis year, not just the players, but all the staff around me, makes me reallyproud of it. I will remember it as one of my very best years.
 
"I don't like rankingachievement but this one will always be one of the finest moments. When I cameto Fulham we looked doomed and a year-and-a-half later we are in seventh placeand in Europe - and I do think that is anachievement.
 
"I don't want to take creditfor that. I am a cog in the wheel. I am a person who prepares the players butthey deserve the credit. The fans pay to see the players not me.
 
"I am really pleased with theplayers and the work they have put in. Fortunately the other results wentpretty much as we thought. For Tottenham to beat Liverpoolat Anfield was always going to be a tough ask. But I will take seventh spot andthe European place.
 
"After a couple of days Ishall look back on what has been a fantastic season for us.
 
"Now the hard work begins tomake certain that we try and bolster our squad and start all over again onAugust 1.
 
"We can look back on season2008/09 like and we can say it was a great season because we got into Europe."