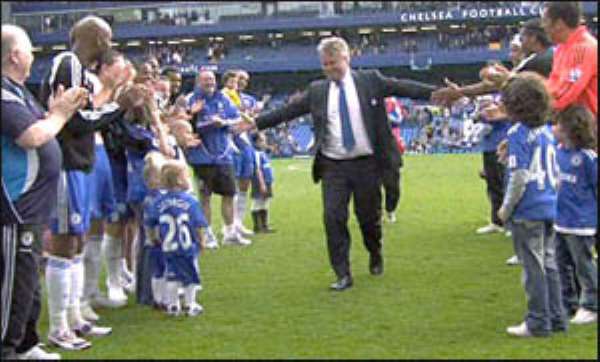 Hiddink takes Stamford Bridge bow Guus Hiddink has revealed he had "second thoughts" over his decision not to extend his time as Chelsea manager.
Hiddink has made a big impression since taking over at Stamford Bridge but will leave at the end of the season to carry on his full-time job as Russia boss.
"I've many second thoughts, sometimes third thoughts," said Hiddink, 62, after Chelsea's 2-0 win over Blackburn.
"When I see the reaction of the players I feel a kind of sadness but I have to leave and that is the reality."
Hiddink bid an emotional farewell to the Stamford Bridge crowd at the club's final home game of the season in which Chelsea fans held up placards begging the Dutchman to stay and sang songs urging owner Roman Abramovich to keep him as manager.
He was also given a guard of honour by his players, many of whom have repeatedly voiced their desire to see him remain in charge.
From the day he was appointed on 11 February, Hiddink has always insisted he was only taking the reigns on a temporary basis before concentrating his efforts on getting Russia to the 2010 World Cup in South Africa.
"Russia is a country that needs to be developed," stated Hiddink. "I have given my commitment to them, with pleasure, and I have to fulfill that.
"But that does not mean that it is not difficult to leave this atmosphere."
Hiddink has guided Chelsea to a third-place finish in the Premier League, with one game remaining, and will lead them out at Wembley as they take on Everton in the FA Cup final on 30 May.
His Blues squad also came within minutes of reaching a second successive Champions League final before a late goal from Barcelona ended their hopes.
Hiddink accepted that whoever succeeds him - BBC Sport understands AC Milan coach Carlo Ancelotti is the top target - must look to refresh the squad to remain competitive. 
BBC